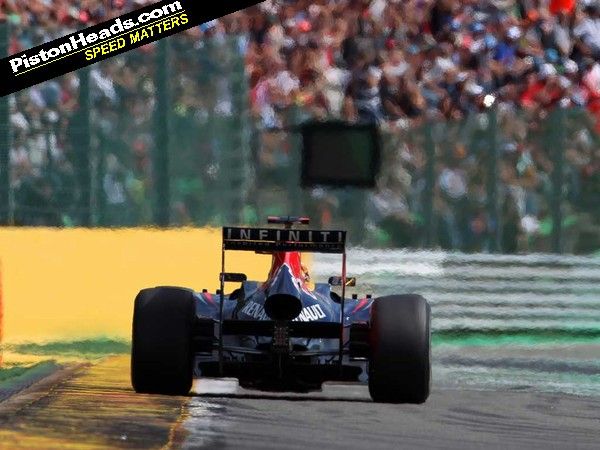 Two extremes of motor racing this weekend on PistonHeads - while Dan gets stuck in with some
grassroots Caterham racing
Peter Burgess is off to Spa for the F1 off the back of an invitation from Infiniti and Red Bull. Peter's journey there yesterday kicks the blog off but we'll be updating this through the weekend so keep checking back for a parallel view of two extremes of the motor racing world.
---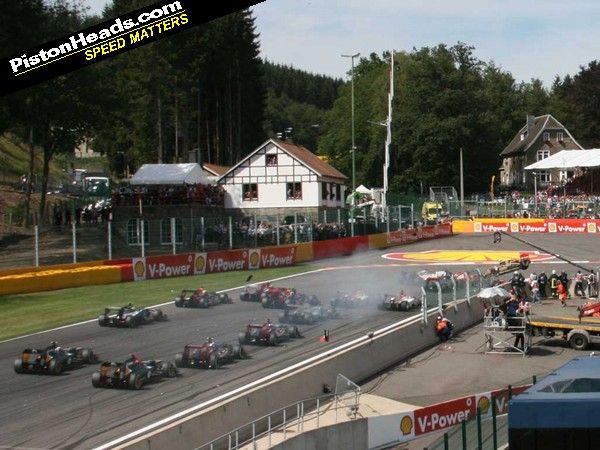 Sunday: back at the circuit
We get to the track early. This is one of my favourite times at any motor race, beating the crowds, today with the mist still hanging in the trees. If, like me, you've never been to Spa, there's one important ingredient you simply can't take in from the TV. The changes in elevation are staggering. Eau Rouge is so steep only the very fit can pedal a bike up it. The rate at which the road falls from the top end of the circuit to pit level looks like free-fall.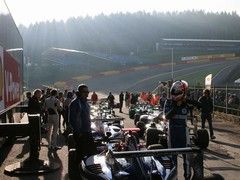 Early morning start at Spa very atmospheric
1000h
Interview with Infiniti Vice Presidents. More of this on PistonHeads soon.
1030h
Michael Schumacher makes an appearance in the lounge. It's the usual chat, though to be fair, the old man is celebrating his 300th grand Prix this weekend.
1130h
First Sebastian Buemi then Daniel Ricciardo drop by for a chat. Not to everyone, just five of us sitting at our table overlooking then start line. It's a special moment. Buemi says the Red Bull has a lowered the ratio of seventh gear, which gains 0.4 of a second per lap on full tanks. The downside is that when the car gets lighter it hits the rev limiter on the back straight, so the DRS becomes ineffective. It proves just that in the race.
1300h
I bag a place overlooking La Source, with a view of the last 200m of the startline straight, the whole of the corner and another 200m of the plunge to Eau Rouge.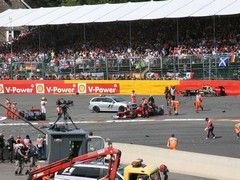 Bigger brooms needed for this mess...
1400h
We'd seen off our Button-gets-pole Tequila bet late last night, but the new wager was that with Maldonado, Perez and Kobayashi in the first three rows it was an accident waiting to happen. When it did it was Grosjean who seemed to precipitate the terrifying crash that eliminated Alonso, Hamilton and Perez too. The whole event takes place directly in front of me.
Yet no one is hurt. Mundanely, I try to work out why they don't give the marshals bigger and better brooms, or indeed get a mechanical sweeper to clear up the mess double quick. It seems to take ages.
1540h
The rest you almost certainly know. Button has a peerless victory, with no one close the whole weekend. Infiniti Red Bull driver Vettel pulls off a masterstroke, starting 11th and finishing second.
We dash off for the airport in our FX50. There are plenty of happy faces in our group. Suddenly Seb is back in the frame.

---
Saturday evening, Francorchamps
It's different take on your average Grand Prix. We jump in an Infiniti FX50 and head for one of those 'simple' restaurants that normal mortals wouldn't have a hope in hell in booking a table. "Bernie is in the building" someone jests. But it's true. "Have you cooked dinner for us Bernie?" someone has the balls to ask as he walks by. We get a curt "No".
Simon Sproule is the global marketing communications boss from Infiniti. He's here to discuss why the Japanese premium brand has become involved in F1. Sproule was instrumental in putting the deal together with Red Bull. To cue, Christian Horner gives him a friendly tap on the shoulder.
Mark Webber is in the restaurant too, having a quiet meal, while Bernie has tucked himself into a corner with Niki Lauda. Outside the window there is the thump-thump of a DJ and a few late night fans hoping for a glimpse of their heroes.
---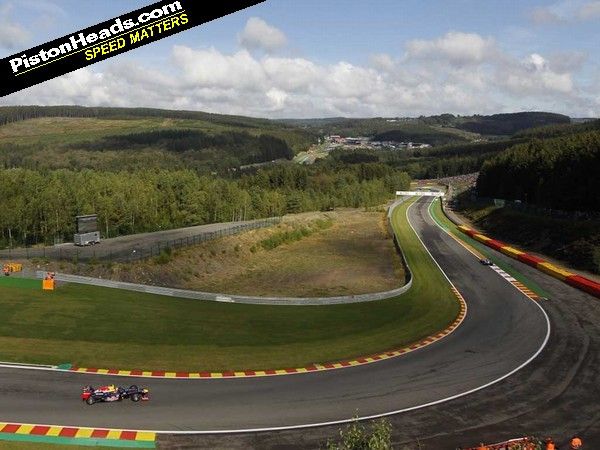 Saturday, in and around the Red Bull paddock...
This is going to be no normal F1 experience. Infiniti chauffeur, quail and fois gras lunch, a wander around the Red Bull garage promises a dreamlike experience. It's so much more me than messing around in a field in Norfolk!
1100h
Make it to the circuit in the Infiniti FX50. Just an hour to do six miles, but we park right next to La Source. Final practice prior to qualifying has just started. It's an awesome sound through the forests on the approach. Jeez, it's loud. I always knew it was going to be but it's still shocking how much it makes your ears bleed. Standing inside the hairpin gives breathtakingly close viewing.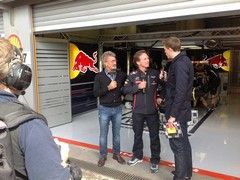 EJ and Jake get cosy in the pitlane
1200h
Via a convoluted pass system, we make into the Red Bull garage for a quick tour. No drivers, but plenty of activity.
Eddie Jordan and Jake Humphrey walk past hand in hand. Clutching each other for rather too long than is seemly. It's a joke. Yes, it must be. The pit lane walk is nicely uncrowded. Interesting that the BBC manages on a crew a third of the size of Sky.
1420h
Both drivers in after first practice. Webber sounds chipper as we listen in to the chat over the headphones from the back of the pit garage. Vettel is more reserved, with reason as it turns out.
Later Vettel fails to make Q3. Long faces all round. There's a dare going on to ask him why. No one takes it on. Mark Webber manages the middle of the top 10, but will suffer a five place grid drop for a gearbox change. Not a good day for Infiniti Red Bull. But a good day for us. There is a round of tequilas due on a Button-gets-pole bet.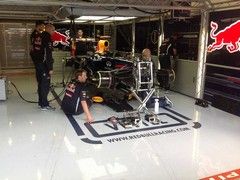 Incredible access with the magic laminates
1530h
More use of the 'gold dust' paddock passes to make our way to the Red Bull Energy Station. It's home for Torro Ross too, a haven for the mechanics, drivers and management team. Christian Horner comes in looking stoical.
Niki Lauda is to doing his stuff for Austrian TV, as is seemingly every other TV crew. No one seems interested in interviewing Karthikeyan, who walks around looking like he has just been given the sack.


---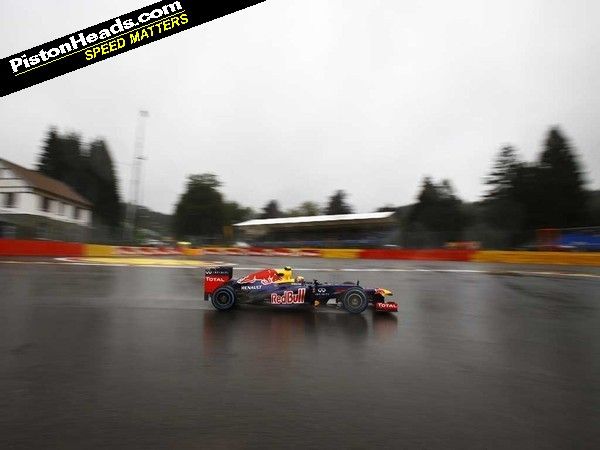 Friday:Hertfordshire, 0800h
Infiniti driver Tiz arrives at my house with my M30d saloon. That's the one with the Renault diesel engine, which sounds like much less fun than the 3.7-litre V6 petrol version. OK for sitting in the back and checking emails though.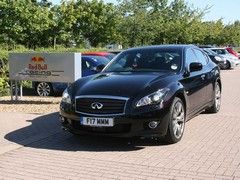 The Infiniti/Red Bull connection? Er, here
Milton Keynes, 0910h
We make a rapid 60-minute tour of the F1 factory, or at least the bits we are allowed to see. Yes, you probably know that 500 people work there. But when I see 100 of them in the technical office, well, I momentarily question what hell is the point of all this effort going into such an esoteric pastime.
But pretty quickly you get a grasp of all that cutting edge engineering, and the fact that 500 jobs are 500 jobs. And no one gets paid as much as Wayne Rooney.
Folkestone, 1300h
Arrival at the Eurotunnel along with my new compatriot Piet Van Niekerk. He's in an Infiniti FX50, I'm in the M30d saloon. We tank up. The diesel is doing 31mpg, not shabby for a 5 Series rival run at high speed; the FX does 10mpg less. But it does have a five-litre V8. So we swap cars.
Spa, Friday, 1900h
There's a crowd outside the hotel. Seems like the boys from Red Bull, Ferrari, Lotus and Force India are staying too. Here's Nico Hulkenberg doing the right thing for his fans, though he does seem to be enjoying it more than strictly necessary.
Can't wait for tomorrow!

---
Track photography: LAT