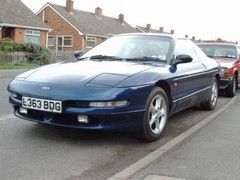 "Hey baby! Can I give you a lift with my Probe? Cool, just hop in..."
As car names go, there aren't many that sound 'wronger' than the poor afflicted Ford Probe. It's an ugly car as well as a stupid sounding one. It doesn't really handle, and with only 168bhp available from its 2.5 litre V6, it's asthmatic as well as thirsty. All in all then, probably not the car of your dreams.
Until now that is. For today, Ladies and Germs, Shed Of The Week is proud to present the sporting bargain of the er, week. And here she is - a 1995 model Ford Probe that's barely run in with only 100k miles on the clock, a fully stamped-up service history and a year's MoT for (wait for it) a fiver under six hundred notes.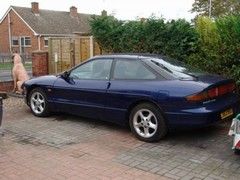 Yes, yes, yes, you see! At that price suddenly those slabby pot-bellied flanks begin to look glamorous, even sexy. And that's before you even take a peak under that beaky... no, that elegantly swooping bonnet and check out the state of the art 24-valve Mazda engine with multi-port fuel injection, four cams, and a computer controlled variable induction system. That amount of 'stuff' has still got to sound good in the pub, hasn't it? The Probe has even got genuine supercar-style pop-up headlamps.
With swathes of grey fuzzy upholstery lavished around the well-appointed cockpit, any self-respecting passenger would immediately respect this car's owner as a person of taste and distinction, although you still probably wouldn't risk cruising it up and down the road outside your local primary school at going home time. Nope, some stigmas run too deep.
But still, £595 for all this. It's what SOTW dreams are made of, surely?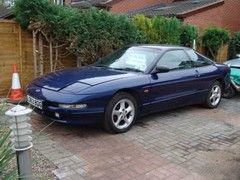 Advert reads:
Ford Probe 1994 2.5 in very good condition 102333 miles 168 BHP
Sunroof, fully stamped service history every 10,000 up to and 90,000 miles to be sold with full MOT.
I purchased this for my wife in 2004 unfortunately she found it a little low to get into so after two thousand miles it was put into storage and has not been used since. It is such an excellent car in such good condition I have been reluctant to part with it. It has been on sorn since 2004 and has been for its MOT test today. It has been refused on rear anti roll link bar and slight imbalance on front brakes. The parts have been ordered and it will have full MOT next week. I am convinced that these are brilliant cars and superb collectors vehicle of the future available at bargain price. This car is looking for a good home that will appreciate it. Inspection Welcome tel 01905 420005. a lot of car for £595 or Best offer
Please contact within 24 hours of end of listing to arrange collection . Cash on Collection