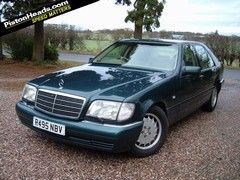 The barge-haters among the shed fraternity will no doubt be jumping upon this one as 'yet another example of the sort of German luxobarge we do every other week'. But when I spotted this W140 S-class lurking in the nether regions of the PH classifieds I knew it had to be SOTW. Merc fanboy Garlick would have hidden my car keys if I hadn't, and I wouldn't be going home for the weekend.
But I digress. There is, of course, a proper reason why we are prone to featuring large, luxurious and often German cars on Shed of the Week, one beyond simple predilection. And that is because large, well-built expensive cars can live a long life but, when they get to a certain age, scare Shed-gentiles off with the prospect of large running costs, which depresses the value of them. And makes them prime SOTW-fodder.
Of all these, the W140-era Mercedes S-class must surely be the king of barges and yet, until now, we have never crowned one SOTW.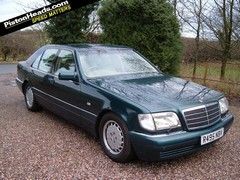 For starters this is the S320 model and so gets a 220hp and 229lb ft version of Merc's M104 straight six. Although not blessed with quite the grunt of the S500's V8, it's fast enough in the real world, and gratifyingly more powerful than the base-model S280. And besides, in Shed-world, fewer cylinders means fewer things to go wrong.
The W140 S also straddles two Mercedes-Benz eras, being not only possibly the last hewn-from-the-mantle-of-the-earth Mercs, but also suitably high-tech, with double-glazed windows, self-closing doors and the first standard-fit dual-zone climate control on any Mercedes.
This particular car further impresses by dint of being a late-model example (and we all know it's best to get hold of something when all the bugs have been ironed-out - early iPhone users will tell you that).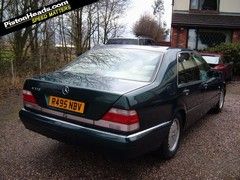 It ticks plenty of other boxes, too - service history, MOT, new tyres, and full leather. The only worry we have is the admission that 'all four wheel arches have been painted, but not to highest standard'. Hmmm...
But apart from that, this is surely one to get the pulses of all you barge fiends racing. Garlick is no doubt currently trying to work out whether he can justify an S-class and a Lexus...
Advert is reproduced below
MERCEDES BENZ S320 1 OWNER FSH SWAP OR P/X (1998)
147,000 miles £900
146000 MILES

FULL SERVICE HISTORY

MOT NOVEMBER 2011

CAN TAX FOR YOU

NEW TYRES

NEW WINDSCREEN

MOT HISTORY PRINTOUT

SOFT CLOSE DOORS & BOOT

FULL LEATHER

HEATED & ELECTRIC SEATS

DOUBLE GLAZING

BODYWORK PRESENTABLE BUT ALL 4 WHEEL ARCHES HAVE BEEN PAINTED BUT NOT TO HIGHEST STANDARD

IDEAL CAR FOR CHARITY RALLY ETC

PERFECT LIMO FOR BARGAIN MONEY

WILL CONSIDER ANYTHING IN PART EX OR SWAP

ANY QUESTIONS OR YOU NEED TO PART EXCHANGE YOUR OLD CAR PLEASE CALL ME ON 07976603678

KIND REGARDS DUNCAN