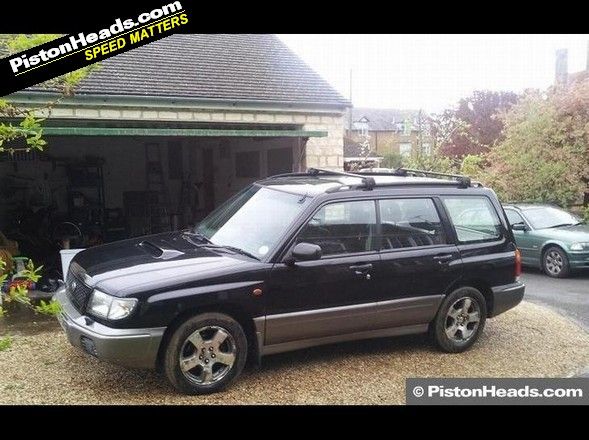 To some, being credited with the invention of the 'crossover' is like being responsible for the creation of a communicable disease - not something to be particularly proud of.
It's a genre that has spawned such vulgarities as the BMW X6 or, further down the scale, weirdness like the Nissan Juke or Honda H-RV.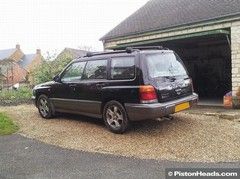 The crossover concept has also given rise to a wealth of arguably more honest estates-with-a-bit-of-extra-clearance-and-four-wheel-drive, among which you'll find the likes of Skoda Octavia Scouts, Audi Allroads, Saab 9-3Xes and today's Shed of the Week - the first-generation Subaru Forester.
This car has been accused of being the sire of a genre of cars not particularly beloved by enthusiasts, but in truth the original Forester is less of a marketing exercise and more an example of what Subaru does best - simple, ruggedly engineered four-wheel-drive cars, with a healthy dose of practicality thrown in.
As with most Subarus, the Forester is not exactly the prettiest of things but, along with the signature all-wheel drive, the turbocharged boxer four is also there, although giving only a relatively modest 170hp or so. That was always enough to make the Forester an entertaining thing to punt around, however, and certainly more enjoyable than the Volvo XC or Cross Country that was its contemporary.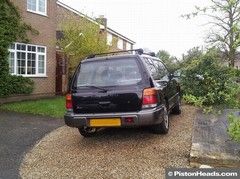 And while many Imprezas have fallen into the hands of less-than-sympathetic modifiers over the years, that's not something that could be said of the Forester. On the other hand, many of these were bought by Subaru's traditional farming community market, and will have had a pretty hard life of toil as a result.
This particular one might well have been one of those at some point - it's got very little in the way of service history and seems to have been knocked around a little during its 13 years on this earth. It's also got quite a short MOT and tax on it, which is potentially worrying.
It's one to go in with eyes wide open on, then, but if you know what you're doing, and are prepared to take a bit of a punt, it could be quite a bargain...
Don't like this? there are plenty more potential Sheds to tempt you in the PH classifieds...
Advert is reproduced below
1999T Subaru Forester S-Turbo 4x4 AWP (£950)

Taxed till End July / MOT till June 6th.
You are looking my Subaru, used as a commuting and family car by myself since last June. Now selling due to the mileage that I'm now doing - I've bought a diesel instead. Will be sad to see it go!
This is the higher spec "all weather pack" model including headlamp washers, foglamps & double-size electric sunroof, along with the usual refinements (air con, electric windows, central locking & immobiliser etc). It also has a stereo system with aux and USB input (nothing flashy but great for plugging in an iPhone to listen to etc)
The car is in good condition for it's age. There are a fair few blemishes to the exterior. The interior is in nice clean condition, above average for these cars (which often get used on farms etc). I will add some photos at the weekend. There's also a Subaru boot liner and load cover in the rear.
It has a Subaru-supplied stainless exhaust box, and 4x matching Yokohama Geolandar G035 all-season tyres with good tread.
Bad points would be:
- The lacquer is peeling off the alloys, so they don't look great though they all hold pressure perfectly.
- I don't have service history or much paperwork with the car generally.
- Slight suspension knock at the rear.
- Occasionally needs topping up with oil.
Overall this is a bargain of car, with good performance and the ability to plug through mud & snow if necessary. I've done 70 miles per day for almost a year and it hasn't let me down once. Also starts perfectly after being left for a week or more.
Viewing available at weekends only. Please contact me via email anytime, or via phone after 8pm. Please no messers, scammers or silly offers.