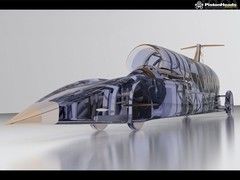 Click to preview
In the week that the British World Land Speed Record team started taking the lid off their 1000mph car's tech spec, what better Pic Of The Week than this gratuitous image of the Bloodhound 'nekkid'.
A closer look at the car reveals some interesting insights into its construction, which could be loosely described as a mixture of racing car and aircraft - with a carbon body tub up front for the driver, bolted to a metal subframe/fuselage for the mid-mounted, er, powertrain…
We're ever-so impressed, and we know you are too. So stay tuned to this channel for more fab Bloodhound content soon!
Normal (1280x1024)
WideScreen (1440x900)
SuperSize (2048x1536)