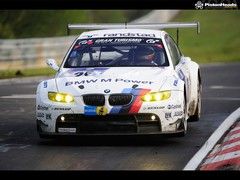 Click to preview
With all the current uncertainty surrounding the
financial future of the Nurburgring
, we thought it might be appropriate to remind ourselves exactly why the 13 miles of twisting Tarmac in the Eifel mountains is still one the best tracks in the world.
We reckon this pic has the answer. It features the M3 GT2 of Jörg Müller, Augusto Farfus, Uwe Alzen, Pedro Lamy on its way to win the Nurburgring 24-hour race last year, taking to the air at the famous Flugplatz.
It's one of the most evocative and historic sights in motor racing, and the fact that you can pay a German fellow a few euros and get even half an inkling of what it's like to be there, doing that in one of the most prestigious and challenging races in the world makes the Nurburgring Nordschleife a very special place indeed.
Long may the touristenfahrten continue...
Normal (1280x1024)
WideScreen (1440x900)
SuperSize (2048x1536)