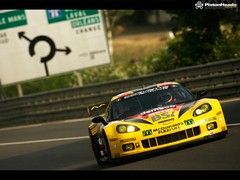 Click to preview
Le Mans these days might be dominated by dull-sounding turbodiesels, but a picture we spotted while trawling for images of last weekend's Le Mans test has lifted the hearts of PH HQ's fans of noisy racing cars.
The GT1 class might be absent from Le Mans this year, to be (in part) replaced by the new GTE spec, but the good ol' Corvette C6 will still be present, in all its V8 glory.
We don't know for sure whether the cars will still sound as good as the old GT1 contenders - which sounded as though they were ripping a hole in the fabric of the universe - but it's hard to imagine the Yankee muscle cars sounding anything other than brilliant
Here's hoping that Detroit's finest hasn't lost its aural edge...
Normal (1280x1024)
WideScreen (1440x900)
SuperSize (2048x1536)