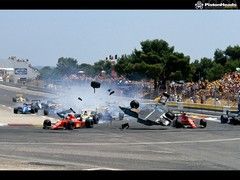 Click to preview
Normally we try to make POTW topical in some way, but with today's offering we are rather breaking our own self-imposed rule.
The reason? Well, apart from the fact that we weren't really inspired by anything else in this week's motoring news, an idle browse on LAT photographic's archive brought up this pic, dredged from the company's 'Unique Collection #5'.
It's Mauricio Gugelmin taking to the air in his March-Judd in the 1989 French GP at Paul Ricard, causing the race to be restarted. Astonishingly, he managed to restart the race (albeit using the team's spare car).
If we're really pushing it, we suppose we could say it's topical because there wasn't a Grand Prix last weekend, but that's a bit tenuous...
Normal (1280x1024)
WideScreen (1440x900)
SuperSize (2048x1536)