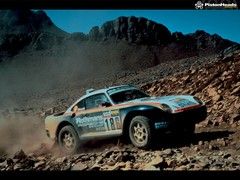 Click to preview
With today's POTW teetering on the cusp of a brand new year, we felt it was time to look forward into 2011 and to a new year of motorsport.
We didn't have to look too far, mind you, because tomorrow (provided you're reading this on the last day of 2010) marks the ceremonial start of the 2011 edition of the Dakar rally in Buenos Aires Argentina.
These days, heavily modified off-roaders dominate what remains one of the world's toughest feats of motorsport endurance. This is a genre epitomised by the VW Race Touareg, which took victory in the 2009 and 2010 events and looks set to be a top contender for 2011 honours, too.
But it wasn't always thus. Back in the 1980s - when the world was basically mad - Porsche sent a supercar to battle the desert rally, and it won. At a loss as to what to do with its 959, which had been developed for the still-born Group B circuit racing formula, Porsche decided that it would modify it for what was then the Paris-Dakar. It duly did so and, in 1986, took victory with René Metge and Dominique Lemoyne.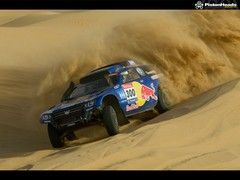 Click to preview
Two very different Dakar weapons, two very different eras. But which appeals more? A 400bhp rear-engined supercar careering across the surface of Mars, or a 310bhp diesel off-roader leaping improbably through sand dunes?
Of course, with the wonders of the internetweb you don't have to choose, so we've provided you with both...
Merry New Year etc...
Porsche 959:
Normal (1280x1024)
WideScreen (1440x900)
SuperSize (2048x1536)
VW Touareg:
Normal (1280x1024)
WideScreen (1440x900)
SuperSize (2048x1536)