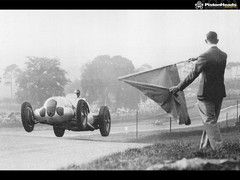 Click to preview
This week's news that the revitalised
Donington is to host an annual historic festival
to rival those held at Goodwood, Silverstone and Oulton Park has had us inevitably dreaming about Donny's pre-war days.
Donington Park was only the second purpose-built circuit in the UK, and the first 'parkland' track (Brooklands was more of a 'sspeedway' affair). After a couple of seasons of bike racing, Donington held its first four-wheeled motor race in 1933.
It held its first GP in 1935, which was won by a chap who we have to mention solely because of his fantastic nickname - Richard 'Mad Jack' Shuttleworth in an Alfa Romeo.
Later in the 1930s the crowds at Donington (60,000 spectators came to cheer on Dick Seaman in the 1937 event) also bore witness to some epic battles between the mighty German 'Silver Arrows' of Mercedes-Benz and Auto Union, before the track was requisitioned as a military transport base in 1939, destined not to re-open for another forty years.
We reckon this shot of a Mercedes-Benz W125 in full flight is a fitting reminder of Donington's history. We're not sure wheter it's Seaman, Carraciola or Manfred von Brauchitsch at the wheel, but we do know that launching 595bhp's-worth of Mercedes into the air is a feat of damned amazing driving. Oddly, the chap waving the flag doesn't seem so impressed...
Normal (1280x1024)
WideScreen (1440x900)
SuperSize (2048x1536)