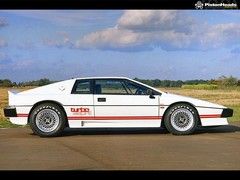 Click to preview
What with all this talk of the impending arrival of the new Esprit, and
Lotus's ambitious five-year plan
, we felt that it was worth taking a moment to look at what was, with today's POTW, rather than what will be...
So, from an era when Giorgetto Giugiaro could create an arresting shape with apparently nothing more than a pencil and a ruler, we bring you the Esprit as it was in the early 80s. Yes, we know it's not the earliest evocation of Giugiaro's geometric wonder, but we thought the Esprit turbo was the appropriate choice, since it was the model that brought supercar punch to the Norfolk firm for the first time.
And for those who feel that Lotus is not a brand that can keep up with the likes of Ferrari in the mid-engined quasi-supercar market, think on this: the 1982 Ferrari 308 GTB Q4, with its 237bhp could muster a 0-60 mph sprint in 6.7secs and a top speed of 156mph. The Esprit turbo, with its 210bhp motor could hit 60mph from rest in 5.6secs, and topped out at 152mph...
Normal (1280x1024)
WideScreen (1440x900)
SuperSize (2048x1536)