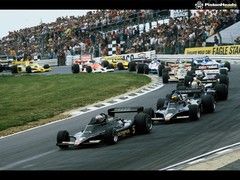 Click to preview
Yesterday's story about
F1 Racing imagining an F1 car for 2020
with the help of Pat Symonds has had the PH office reminiscing about our favourite F1 cars and eras - and we reckon today's POTW might just about be F1's sweet spot.
It's the start of the 1978 British Grand Prix at Brands Hatch, with Mario Andretti leading Ronnie Peterson into Paddock Hill bend, followed closely by the rest of the pack.
1978 was also a season that had everything. There were great tracks (see exhibit 'A' of Brands Hatch), technological battles with Renault turbo engines beginning to take on the ageing Cosworth DFV, and clever aero tricks such as the Lotus 79's ground-effect or the innovative but controversial (and soon banned) Brabham fan car coming to the fore.
In the championship-winning Lotus 79 you also had (to these eyes at least) one of the most elegantly proportioned racing cars ever, and with a cracking colour scheme, to boot. If it wasn't for the lack of driver safety - Lotus driver Ronnie Peterson tragically lost his life in a first-lap accident at the Italian GP.
Normal (1280x1024)
WideScreen (1440x900)
SuperSize (2048x1536)


---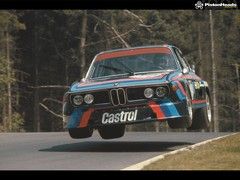 Click to preview
PS
- as an extra POTW bonus feature (and due to popular demand), here's the BMW 3.0 CSL of Hans Joachim Stuck and Jacky Ickx at the 'Ring in 1974, demonstrating some serious commitment, and certainly getting rather more air than the
2010 M3 GT2 we featured last week
...
Normal (1280x1024)
WideScreen (1440x900)
SuperSize (2048x1536)