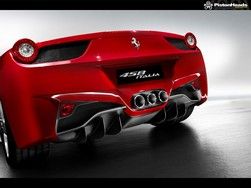 Click Here to Preview
With excitement over the new McLaren 12C reaching fever pitch this week the car was an obvious choice for Pic Of The Week, right?
Well, maybe. But you know what? We're still waiting for that first mind-blowingly gorgeous, lasciviously indulgent image of this new Ferrari 458 competitor. Let's call it the McLaren 'girl from Ipanema' picture, the one that makes us say 'aaaaaah...'
While the carefully stage-managed introduction still focuses on the technology elements of the new British contender - undoubtedly its greatest strength - we can't fault the logic. So as long as McLaren Automotive doesn't become a brand where 'winning' means the head always has to rule the heart, we'll be happy bunnies.
Meanwhile here's a 458 pic for your desktop to remind us all about the sort of good stuff the 12C is up against.
Click Below to download this week's wallpaper:
Normal (1280x1024)
WideScreen (1440x900)
SuperSize (2048x1536)
Join POTW on facebook here