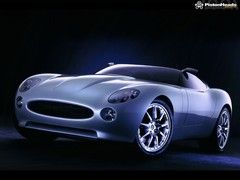 Click to preview
Celebrations from Jaguar fans this week, as the big cat (well, not the big cat - that's just a logo) confirmed that it will finally build a
long-awaited rival to the Porsche Boxster
.
There are precious few details on the new car, other than the fact that Jaguar is going to build it. But if it looks even one tenth as good as this 'F-Type' concept car from a decade ago then there should be long queues outside Jaguar dealers.
The new roadster will also be joined by a successor to the unloved X-Type and an XF estate, which will no doubt both be lovely cars. But we really want the F-Type, and we want it now.
Until then, this wallpaper will have to suffice...
Normal (1280x1024)
WideScreen (1440x900)
SuperSize (2048x1536)