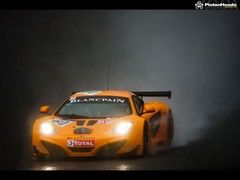 Click to preview
They say racing improves the breed, but if the Spa 24hrs the other weekend was anything to go by, McLaren could be set to improve the racing in GT3. Or if not the racing, at least the photography...
From this desk, the new Macca GT3 racers look like the dog's danglers, and here to prove it are a couple of lovely shots from the Spa event - courtesy of the McLaren Automotive publicity machine.
McLaren's first endurance race for around 15 years saw three MP4-12C's lined up on the grid, and although only one car got to the finish line in 25th spot (an accident and a fire removed the other two from contention), the company has drawn various positives from the experience: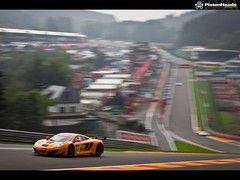 Click to preview
"Impressive lap times, successful integration of a future McLaren GT customer into the team at Spa, and the safety of McLaren GT driver and Project Manager Andrew Kirkaldy following a high speed incident, mark out a positive result for McLaren GT in its debut 24 hour endurance race," they say.
Er, OK. Nice pictures! we say.
Meanwhile, if you've been meaning to soak up a bit of the legendary Spa atmosphere but missed the 24hrs - don't forget this PH special offer for the Six Hours. And if you want to see a McLaren in the flesh, we're picking one up this morning to take to Wilton House on Sunday. Come and say hello!
Wet...
Normal (1280x1024)
WideScreen (1440x900)
SuperSize (2048x1536)
...and dry
Normal (1280x1024)
WideScreen (1440x900)
SuperSize (2048x1536)