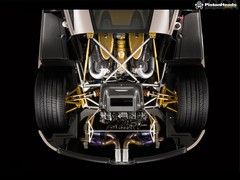 Click to preview
'It sounds like someone vomiting'. 'It sounds like a cough'. 'It sounds like a football chant'. 'It's almost unpronounceable'.
These seem to be the most common phrases surrounding the new Pagani Huayra supercar, be it on our very own forums or in articles written out there in the 'real world'.
Which is a bit of a shame, really, because an all-new supercar from one of the world's most flamboyant manufacturers is not a regular occurrence. So when it does happen, we as car enthusiasts should surely be debating the merits of - or drooling over - the body, specification sheet and oily bits of the new machine.
Thus, on the very day the new Pagani is presented to the public in Milan, we are attempting to redress the balance of Huayra discussion (it's pronounced 'why-rer' by the way, at least according to our man in the know, Dan Trent who's had a good poke around the new Huayra) with what we reckon is a dribble-worthy POTW of the new car's innards. And very lovely they look too...
Normal (1280x1024)
WideScreen (1440x900)
SuperSize (2048x1536)