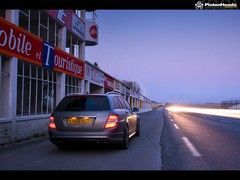 Click to preview
The old start line grandstands just on the outskirts of Reims, might be a bit of a road trip cliché these days, and the newly painted concrete has robbed the crumbling buildings of some of their bygone-era mystique, but the old circuit is still worth a look if you're ever passing by that way.
To start with, the circuit, which was an F1 venue until 1966 and held sports car races up until 1972, is barely a stone's throw away from the autoroute as you skim past Reims.
It's also a pretty evocative place, although the rush-hour traffic on the road to Gueux does spoil your reveries of Lotuses and BRMs chasing one another down the road...
So when we were taking our PH Fleet C63 AMG back from Geneva, we just had to stop in and grab a few snaps.
Normal (1280x1024)
WideScreen (1440x900)
SuperSize (2048x1536)
Pic: Steve Hall