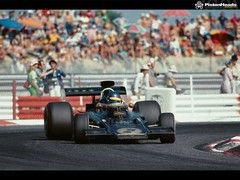 Click to preview
With yesterday's news that the tug of war over the use of Lotus name in F1 has at last been settled, a part of the indignity suffered by that once-great badge is over.
But it does throw into sharp relief the fact that the Lotus name - whichever F1 team has been bearing it - isn't covering itself in glory these days (though we wonder what a certain R Kubica would be doing behind the wheel of the black-and-gold Renault).
And that's a shame when you consider that, for whole chunks of the 1960s and 1970s, Colin Chapman's Team Lotus dominated the sport of F1.
So let's remember Lotus this way, with the magnificent Ronnie Peterson at the helm of the revolutionary Lotus 72 on his way to winning the 1973 French GP.
Normal (1280x1024)
WideScreen (1440x900)
SuperSize (2048x1536)