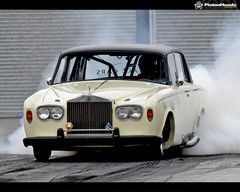 Click to preview...
Matt Wright's Crewe-build 1974 Rolls-Royce Silver Shadow may still strongly resemble the bespoke British gentleman's express that left the production line decades ago, but thanks to the transplant of 588cu Chevrolet V8 it's somewhat faster. Fast enough to run an impressive 7.94 second quarter mile.. at 175mph!
So as you look at this picture on your desktop and the stirring tones of the British National Anthem drift through your post-lunch office reverie, just remind yourself of one important fact.
The bl**dy Germans won it after all.
Normal (1280x1024)
WideScreen (1440x900)
SuperSize (2048x1536)