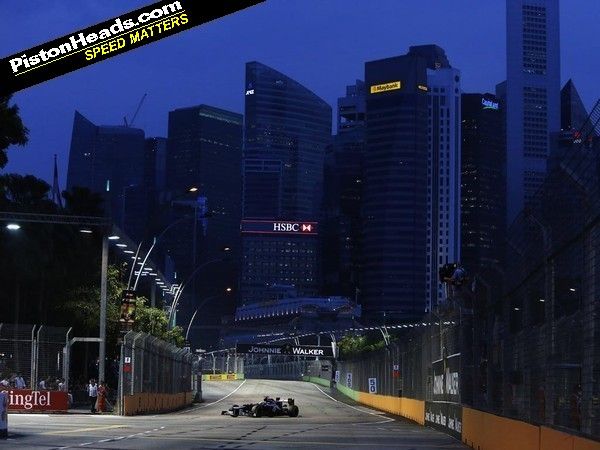 Aside from the 24-hour enduros, twilight motorsport is actually quite rare. Given the issues with timing and lights, that's not hugely surprising. But when they do happen, the races are often pretty special.
The Singapore Grand Prix is certainly one of those. Work on preparing the Marina Bay street circuit will have begun in May, with 25,000 workers assembling the necessary F1 infrastructure and preparing the streets for a battle into the night. There's also the rather convenient commercial benefit of the time difference to Singapore. Over there, 8pm in the evening is 1pm in the afternoon here. So it just makes sense, sort of. Keep an eye out for the debut of the Caterham AeroSeven Concept too, boss Tony Fernandes clearly keen to make some additional noise this weekend.
All that work building the track certainly does seem worth it when the circuit looks like this too. Yes, only Monaco has a slower average speed and overtaking at Marina Bay is just as hard as on the Monegasque streets, but it remains a breathtaking spectacle. Take a look at Pastor Maldonado at last year's GP if you need further proof...
Traditional (4:3)
Computer widescreen (16:10)
TV widescreen (16:9)
Portrait (smartphone, etc)
Picture: LAT Photographic