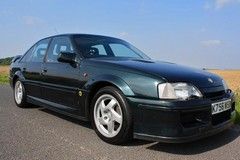 We've been thinking about the Lotus Carlton since one appeared in a
particularly popular PH Carpool last month
, wondering what it would take to acquire one and what some alternatives might be.
Of course it all depends upon whether you want a mint example or something that needs varying amounts of time, money, and knuckle skin to bring it up to snuff. H&H sold one just a couple of weeks ago at auction in Buxton for a shade over £8,000 despite an estimate of £10,000-12,000, which a colleague who went along described as 'not bad'. Whereas you can pay well north of £20,000 for something like PHer NotNormal's fully restored and fettled example.
Somewhere in between the two perhaps is this Lotus Carlton from our classifieds. The servicing is all up to date and there's a stack of paperwork backing-up five grand's worth of engine work, new turbos, a set of Yoko's which have been little more than scrubbed-in and a lot more besides.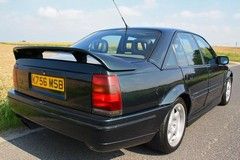 Looking at the pictures the bodywork appears to be straight and ding-free. The vendor describes it as "very original, although the paintwork shows the odd blemish and it could do with a professional cut-and-polish...oh and it needs a new glove box catch too." Both of these issues he intends to have carried out before the car meets its new owner.
It seems, then, that this is an example of the breed which you could enjoy right away and perhaps steadily enhance to top-notch order. There were, however, other properly rapid saloons from the same period which might tempt you away from the LC - although none really compare directly with the Imperial Green Satan's Taxi.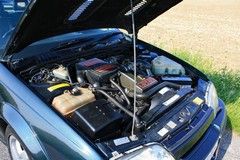 One alternative is this
BMW M5
, which doesn't quite carry the same exclusivity tag, but it is one of the later 3.8-litre cars, is showing just 62,000 miles and is reportedly in remarkable condition. And if you want similar go but without so much show then perhaps a
Mercedes 500E like this
would be more to your taste?
The Merc is perhaps arguably the least engaging car from a driver's point of view, although Porsche were heavily involved in its development, while the BMW is indeed an extremely well-honed driving machine. But what of the Lotus Carlton; is it worth digging a little deeper to buy what was the fastest four-door car of its day?
| | |
| --- | --- |
| | |
| All very nice, but perhaps this... | ...or this would take your fancy instead? |