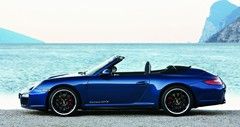 Porsche is seriously considering moving part of its production to China as it pushes towards building 200,000 vehicles a year.
Matthias Mueller, Porsche's CEO, told US business magazine Focus that a decision to move mainstream Porsche production outside Germany could be taken soon.
"This year, we are going to discuss whether to start assembly in Asia or North America", said Mueller. "The main thing is that the car has 'Engineered by Porsche' on it. Where it is produced is no longer so important."
The first subject for such a move could be the forthcoming sub-Cayenne SUV, the Cajun. That car is likely to be built in China, as it will share much of its architecture with the Audi Q5, which is already built at the VW group's Changchun facility in the north east of the country.