Monday 2nd July 2012
Renaultsport Clio: turbo, dual clutch confirmed
First official details drip out about next fast Clio
---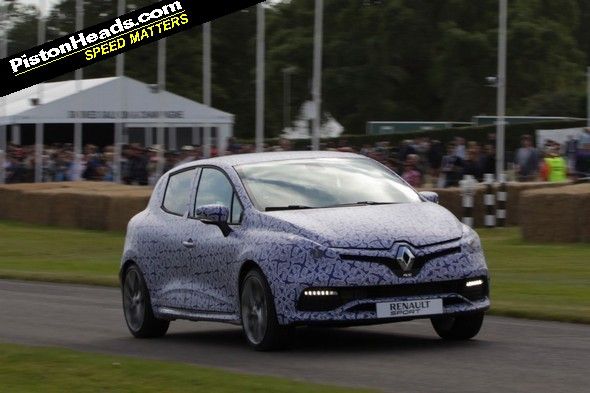 Renault has confirmed the rumours about the
next Renaultsport Clio
. When it goes on sale early summer next year, it'll be powered by 1.6-litre turbo instead of a naturally aspirated 2.0-litre engine. It'll be offered as a five-door only and will come with a dual-clutch gearbox option alongside the standard six-speed manual.
Visitors to the Goodwood Festival of Speed on the weekend were treated to the first glimpse of the new hot-hatch when Renault boss Carlos Tavares drove a camouflaged prototype up the hill.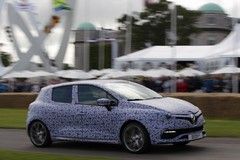 New hot Clio: five doors, turbo power
We'll have to wait until its unveiling at the Paris motor show in October to find out whether the Renault has successfully managed to create a proper-looking Renaultsport Clio out of a five-door body instead of the traditional three-door, but a company spokesman did promise us the overall effect is almost coupe-like, with its falling roofline and hidden rear door handles.
As you might expect, the cancellation of the three-door for all versions of the Clio comes down to cost: "It's a declining part of the sector. Across Europe, five-door superminis massively outsell three-door versions," Renault told us.
No power outputs have been given for the 1.6 turbo, but we're promised it'll match or beat the 200hp put out by the current car. That means it'll still have the poke to hit 62mph in 6.9 seconds or less, but generally consume a lot less fuel than the average 34.5mpg officially recorded by the current car.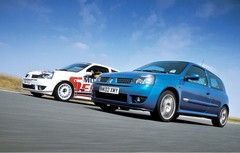 Previous cars were much-loved
The same engine in the Nissan Juke is quoted at 41mpg, so even with the extra horsepower over the 190hp Nissan it should beat that.
The price isn't expected to shift much from the £18,135 it costs now, but initially anyway there won't be the Cup version to shave another grand off by deleting some of the kit.
Renault wouldn't be drawn on whether a sharpened-up Cup will be offered in the future, but we can save you guessing by saying yes, it will be.
There's a lot riding on the launch next year. The Renaultsport Clio has built up a loyal following ever since the 172 version was first seen in 1999 and crucially, unlike Peugeot with the GTI, it has so far managed to retain that magic in subsequent versions. Fingers crossed for next year.