Monday 1st November 2010
MCLAREN 12C GT2 TO RACE AT LE MANS IN 2013?
Out-sourced race programme close to sign-off, reports say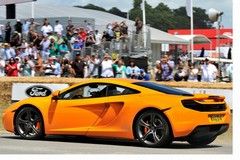 Will we see a GT2 racer next year?
McLaren is reportedly cooking up a deal with British racing team CRS that would see the new 12C supercar dipping a toe into GT3 racing next year, with a GT2 Le Mans outing planned for 2013.
McLaren has never made much effort to dismiss conjecture that it's going to want to race the MP4 12C, but the company has consistently refused to provide details of any plans. Even last week during the fabulous PH prize-winners' tour of the company's F1 and Automotive facilities (full report soon), key personnel rebuffed enquiries into McLaren Automotive's GT motorsport ambitions, insisting that all attention is focused on the road version.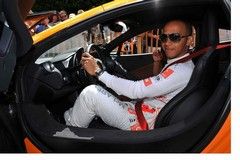 It works for Lewis...
So we're left to rely on
a report
from respected GT racing journo Gary Watkins to tell us that a deal is on the cards with Donington Park based CRS, who will apparently be in charge of converting up to 15 examples of the MP4 12C to racing GT3 spec. If the deal reaches fruition, the first cars will hit the track at the end of next season, with a view to full competition in 2012. Le Mans follows with a GT2 car the year after.
While we wait official confirmation (or not) of the reported plan, we can share a snippet revealed by McLaren design chief Frank Stephenson on Friday which reveals the design team at least has its eyes on the MP4 12C's motorsport potential. (Well, sort of...)
"We've got some very unusual items hanging on the walls of the design studio, including what I'd have to describe as a McLaren Racing sailfish," confided Frank. And in another PH global exclusive, we've got the picture to prove it.
| | |
| --- | --- |
| Frank: I've got a McLaren Racing sailfish | Check it out! |