Thursday 24th February 2011
LAMBORGHINI DIABLO - BODY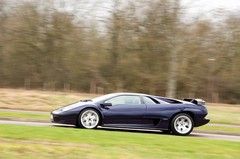 The Gandini-styled Diablo's shape was refined by Chrysler, softening its edges and also making it more cost-effective to produce. However, that didn't stop the Diablo being made from some very exotic materials for its time, including carbon fibre for the engine cover, bonnet, bumpers, sills, and front and rear spoilers where fitted. The main structure is aluminium over the spaceframe chassis, with the panels stressed to add strength and rigidity to the overall frame.
Despite the composite materials and some fibreglass used for ducts and body kits, the Diablo is prone to rust. Check around the bases of the doors, inside the sills, all around the front boot floor, wheelarches and also the petrol filler. Any potential purchase should also be checked for a delaminated windscreen and cracked side glass, the latter more often found in cars that have spent their lives in hot weather conditions.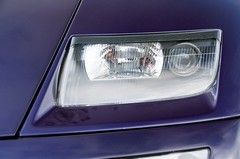 Wheels also need to be carefully inspected as they are very prone to kerbing due to the car's width. Most Diablo wheels can be refurbished for minor dings, but larger grazes should consign the wheel to the scrap bin, which means pricey replacements. Some owners have fitted aftermarket alloys, but these detract from the car's value. A one-off special edition that came blinged up from the factory with chromed alloy wheels was made for Victoria's Secret, a US-based lingerie firm.
The biggest choice for potential Diablo owners is between open or closed bodywork. Purists prefer the coupe but the Diablo Roadster doesn't give much away in structural stiffness. A removable hardtop means the Roadster is also better at sealing out the elements when the roof is fitted, but the seals must be in good condition. When not keeping the weather at bay, the Roadster's hard top can be stowed over the engine cover. The roof weighs 7.5kg as it's made from two carbon fibre panels and is secured by two over-centre locks, but make sure these are fine order as leaks will spring up if they are worn. Releasing the roof from its mounts over the engine cover can be done at the touch of a button from the cabin before lifting it manually into place.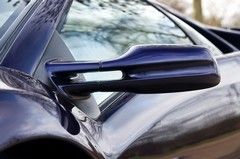 When the VT Roadster arrived in 1996, it brought with it a lower A-pillar and windscreen, revised scissor doors with bevelled door glass, new front and rear bumpers, and reshaped side and fog lights. Roadster production ended in 2000 with the last 30 Millennium Edition Roadsters whereas the Coupe soldiered on until 2001.
Pop-up headlights bowed out in 1999 with the second generation VT, replaced by (Nissan-sourced) fixed lights. There was also a new front bumper, which hinted at the looks of the upcoming Murcielago with its large front air intakes for the brakes.
1) Introduction
2) Powertrain
3) Body (reading now)
4) RollingChassis
5) Interior
6) General Experiences
7) Insurance quotes
8)Diablos in the PH classifieds now...