Thursday 17th May 2012
LE MANS T-SHIRTS NOW ON SALE!
When in Le Mans, dress with style in a PH shirt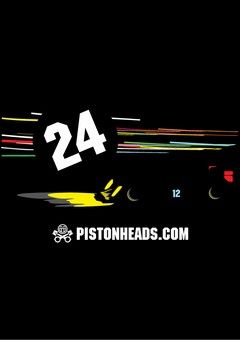 The official PHLM12 design
It's a week of all things Le Mans here at PistonHeads as we bring you
our sticker offering
, details of
the Friday Service
and now our exclusive Le Mans T-shirt. In fact we are currently listening to a 'learn French' cassette and can now say things like
"Monsieur le gendarme, je vous assure que j'ai roulé à 130
" and
"Jeveux bien des saucisses, mais pas ces rouges-la"
, which will come in very handy indeed. Maybe.
As we sticker up our cars, pack up our tents and prepare to head to the ports we are pleased to present the official PistonHeads shirt of 2012, joining the range of Le Mans designs already on sale.
Designed to look like a racing car speeding through the night, the LM 2012 design works best on a black shirt, but other colours are available and all work well with the subtly arty design. Please note there is not a back print on this design.
Have a look at the gallery below for a reminder of our existing designs (all available in a variety of colours and ladies cut too), as well as our sticker range, and if you feel like buying one all you need to do is click this link.
We'll be keeping an eye out for PistonHeads shirts and stickers when at Le Mans and will do our best to say hello, sorry, bonjour.
Useful links: