The passage of time doesn't just make things older, it also alters perspectives. This includes everything from the relative merits of modern bands against what, at some point, you find yourself referring to as 'proper music' through to our collective view on the status of the celebrities formerly regarded as national treasures. And now boxes to tick off in the game of Yewtree Bingo.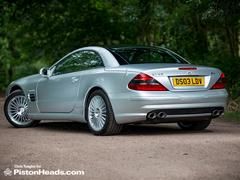 Looks have aged better than some of the underpinnings
It works for cars, too, the once feted R230 Mercedes SL55 AMG now regarded with the kind of suspicion normally reserved for an offer of friendship and support from Michael Gove. From thunderous, supercar-baiting roadster to unfortunate poster child for flaky 90s and noughties Mercedes build quality, time has not been kind.
Not entirely without reason. Trying to bring a poorly maintained SL55 up to standard can rival the cost of firing a gold smelting furnace with £50 notes. But it does obscure the fact that the SL55 AMG was a genuinely impressive performance car when it was launched and - looking back - the one that set AMG on its current trajectory.
Origin story
While Daimler had taken full control of AMG in 1999 it took a while for the new performance division to get into its stride. Earlier AMG-badged Mercs had, with the greatest of respect, tended to be more about the sod-offishness of their hand-built engines rather than any notable chassis finesse. At the turn of the century the idea that AMG would become a serious rival for BMW's M Division seemed far fetched.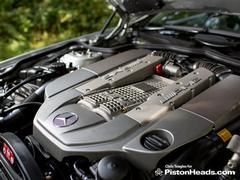 Thundering V8 remains a stand-out feature
The R230 SL was not an obvious basis for a great performance car either. The original 300SL had been the fastest road car in the world but subsequent generations had become progressively fatter and lazier. By the time the R230 arrived in 2001, complete with its folding hardtop, it had becomes a wafty chariot favoured by affluent retirees with leathery suntans and second homes on the Costa Del. It was a sports car only in the fact you were most likely to find it parked outside a golf club.
The SL350 and SL500 versions were happy to play to this stereotype, but the SL55 AMG confounded it. This used a heavily developed version of the 500's V8 engine, rebuilt and strengthened to withstand the extra pressure and heat created by the socking great supercharger mounted in its vee. The 476hp output still sounds pretty healthy by modern standards, but in 2002 it was enough to make the '55 the most powerful road-going Mercedes yet produced, outgunning most contemporary supercars.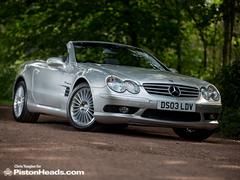 Classic early spec '55, multispokes and all
I first encountered the SL55 at the annual "car of the year" test of a previous magazine job. It had been invited, I suspect, to make up the numbers and help fill the background of group photographs. Yet, if it hadn't been for the presence of a very early Pagani Zonda, the Merc would have stolen the show thanks to its combination of effortless performance and wafty comfort. It was easily as quick cross country as the Lamborghini Murcielago also in attendance, with a well-sorted chassis that made it far more fun to drive hard than AMG's stodgy earlier offerings.
It wasn't perfect, and collective enthusiasm might have blinded journos to some of its more obvious faults. At nearly two tonnes in weight it was obese by sports car standards and, despite Merc's best efforts to persuade the world otherwise, the folding hardtop didn't make it a genuine coupe alternative. But it was bloody good.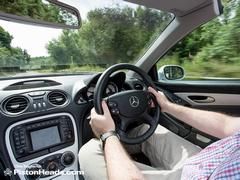 V8 drowns out squeaks and rattles
Yet it really didn't take long for the R230 to develop a reputation for being a money barbeque. Early buyers were quick to report a range of problems, ranging from electrical gremlins to collapsing roof mechanisms. Early faults were rectified under warranty but as cars got older so the cost of fixing them moved onto owners, many of who discovered a poorly SL could cost more than drunken spread betting. AMG definitely wasn't to blame for this - the supercharged V8 engine in the '55 is probably the most reliable part of the car - but overall it suffered the same faults as the standard car. Early buyers, including a certain Jeremy Clarkson, took a bath on collapsing values, and there are still lots of cheap ones out there.
Money to burn
Not the one you see here, an immaculate 2003 example borrowed from Parkway Specialist Cars in Mansfield. Sold since these photos were taken, a £28,000 pricetag made it one of the most expensive in the country, that valuation underwritten by a comprehensive service history and just 36,000 miles from new. That's a serious amount of car for the money; optioned it would have cost its first owner around £100,000. Mark Teale, Parkway's sales director, has seen dozens of '55s over the years and offers a concise summary on the rougher ones. "Don't, just don't. If it can go wrong then it will."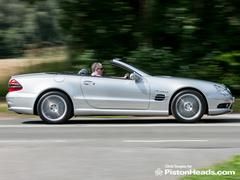 Ballistic back then, still ruddy fast now
From the outside the SL55 still looks impressively modern. Stick a private plate on a clean one and you'd be able to persuade your more credulous mates that you'd begun a new career as a Championship footballer. Although launched after he retired the R230 was mostly styled under the watch of Merc's near legendary design director Bruno Sacco, and it shows his relentless obsession with line and proportion. Finding space to invisibly stow the folding hardtop under the rear of the car remains a serious achievement, as the Ferrari California proves.
The cabin is more of a culture shock. The SL55 AMG dates from the period when Merc's interior designers had an obsession with "organic shapes" and there are ovals everywhere. Nor does it feel particularly high quality; not so much hewn from solid as carved from polypropylene and styrene. Switches operate with a cheap-feeling click that wouldn't pass muster in a modern Kia and the period COMAND satnav provides as many laughs as actual guidance. Despite the gentle use this car has had, there are also some trim rattles as we set off, although the roof glides away smoothly and silently.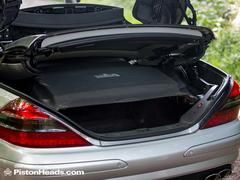 Packaging of folding hardtop remains clever
Yet very soon, none of this matters. The SL55's supercharged V8 remains the absolute star of its show with a breadth of talent that would win a heptathlon. At low speeds it makes progress feel utterly effortless, the gentlest pressure on the heavy throttle pedal getting the big Merc surging on the sort of torque numbers that normally get natural disasters referenced. It sounds far less aggressively V8 than more recent AMGs, with a muffled, burbling soundtrack at low revs rather than the big-cube noise of more recent cars.
It's still impressively quick. There's no lag when you request more urge, just a fractional hesitation as the V8 fills its lungs and the oily bits gather momentum. The autobox only has five ratios, but is happy to hold onto them and trust the engine's torque. Acceleration quickly goes from brisk to serious to something close to silly - contemporary road-testers figured the SL55 from 0-60 in the low fours and Mercedes claimed it would break 200mph were it not for the 155mph limiter. It can't match the operatic top-end of the naturally aspirated M156 V8 that replaced it in the SL from 2006, but it's certainly got more low-down urge.
Okay, so the chassis isn't as good as I remember it; a lot has happened in 15 years when it comes to vehicle dynamics. The SL55's steering feels low-geared and has the 'sneeze factor' dead spot around the straight ahead once standard on all Mercs. Get beyond that and there's some usable - if muted - feel, and an abundance of grip. This car is wearing fresh P-Zero Rossos, a good sign that it's been properly looked after, and the handling balance remains benign, although the back end is carefully policed by the stability control. There's more than enough torque to create a chirp from the back when pulling out of junctions.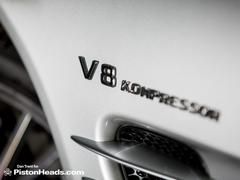 Two things to win hearts and minds
It feels big, though. The electro-hydraulic Active Body Control system - which famously produces some of the biggest bills - does a decent job of trying to minimise the effect of the SL's mass, and gives it still-impressive body control over rougher surfaces. But there's more scuttle shake than I recall, probably because everything else has got so much tighter in the meantime. It's more of a cruiser than a bruiser, but still a hell of car.
Investment advisers always warn us that risk and reward are closely linked, with less of one meaning less of the other. That's definitely the case with the SL55. There's no point giving an exhaustive breakdown of all the potential for exhausting breakdowns here as we've already run a comprehensive buying guide you can read here.
But it's fair to say that the market has priced the AMG's potential for wallet-melting breakdowns into the cost of the cars themselves. Only the bravest, or most foolhardy, would consider the cheapest examples, but there are still well maintained ones out there for prices that come close to "can't go faster for the money" territory. For me, this is a car fully deserving a reputational rehabilitation.

---
MERCEDES-BENZ SL55 AMG
Engine: 5,439cc V8, 24-valve, supercharged
Transmission: Five speed automatic, rear-wheel drive
Power (hp): 476@6,100rpm (later cars had 510hp)
Torque (lb ft): 516@2,650-4,500rpm
0-62mph: 4.5-sec
Top speed: 155mph (limited)
Weight: 1,960kg
MPG: 13.4
CO2: n/a
Price new: £89,040 (2003)

Thanks to Parkway Specialist Cars for the loan of the SL; it has since sold but check out the rest of their stock here!

Photos: Chris Teagles