Is the Mitsubishi Evo the ultimate PH Hero car? It has to be in with a shout. In all of its 10 generations, it has been capable of giving the supercar elite a proper kicking on any back road you care to choose - and for a fraction of the price. You'd think that given the fact that each version has a true giant-killer of its time, choosing a definitive version would be difficult. Not so - ask anyone who loves cars what their favourite Evo is, and you're pretty much guaranteed the same response: the Evo VI Tommi Makinen Edition.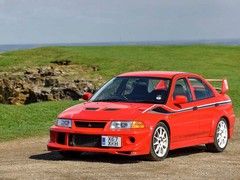 Definitely a case of great personality' over looks
And it's hard to think of many other cars that you can pinpont the most iconic - not the most capable - version, with such pinpoint accuracy. Launched in 2000, the TME (or Evo 6.5 to its fans) came at the height of the Evo's UK popularity, and tapped a rich seam of hero worship that's still very much intact today, despite the fact that homologation specials such as the Evo and Impreza STI are supposedly out of fashion these days.
But the TME is utterly unapologetic about its rallying roots, having been built to flamboyantly celebrate Tommi Makinen's fourth consecutive World Rally Championship title 1999. The Evo V and VI may have been based on a rather innocuous looking saloon, but once in rally trim, they looked awesome - bedecked with an extreme bodykit, deep front bumper and oversized rear spoiler. Jeremy Clarkson said that the Evo looked like it had, 'been crashed into the local branch of Halfords', but for once he missed the point - you weren't buying an Evo to be subtle.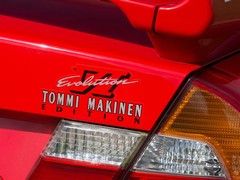 Looking for the Evo sweet spot? Right here
The TME added to this arresting style, being offered in a range of bold colours - red (which was unique to the TME), blue, silver, black and white. Needless to say, it's the red one with stripes, echoing the WRC cars, that proved the most popular then - and which are in the most demand now. The 17-inch Enkei alloy wheels, Momo steering wheel and Tommi Makinen Edition Recaros are hard to miss, too - as we say, it's unapologetic. And we love it for that.
It was't just a cosmetic exercise, though. The TME lost its dinner plate-sized front fog lights, and gained a front strut brace and quicker steering, as well as a 10mm drop in ride height, and a more responsive turbo. These were subtle touches that were designed to finesse the already brilliant dynamics - and many happy PHers will tell you that they work very effectively indeed.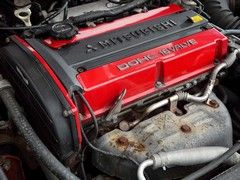 Official output nothing special in numbers...
There was no need to upgrade the engine - owners would do that of their own accord - so official figures of 280hp and 275lb ft remained. Performance figures remained the same, too, with a 0-60mph time of 4.6 seconds and a maximum speed of 150mph. But as impressive as these numbers are, they pale into insignificance when confronted by the dynamic masterclass the TME serves up, given a particularly challenging road.
Rally style, innit
Jump into a TME, and despite the special edition flourishes, it's easy to be a little underwhelmed by the interior. It's generic to look at, and doesn't feel in any way special - especially if you compare it with something like an E46 M3 or Audi RS2. It's functional, though, with a great driving position and good visibility. And when you start it up, that lack of specialness continues - it idles loudly but anonymously.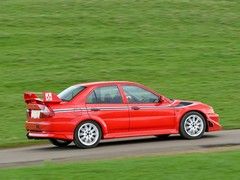 ...matters not a jot once you're up and running
But it doesn't take long to dial-into the TME's genius as a driver's car. Once on the move, you'll be bowled over by the steering, which is beautifully-weighted, direct and pin-sharp. And although it's not quite as talkative as an Integrale's, it's sweet, and tells you all you need to know. The five-speed gearchange is also remarkably smooth, while the throttle and brake response are both exquisite. The Evo has a bit of an extreme reputation as a road car, but the softness of the turbo response (it's a completely standard example we're driving), ample mid-range torque, and relative refinement are a bit of a surprise. There's no bang from the blower, and little lag - so it all feels remarkably tractable.
But once spinning above 4,000rpm, the TME flies. But more so, it rides B-roads superbly the faster you go, and is sublimely damped into the bargain. Corners are all sweetness and light, too - there's no slop at all when turning in, and once adjusted to the lack of discernable understeer and super-fast steering, you'll soon be cracking along, inch perfect, far faster than non-Evo people would consider prudent. And when properly hooning, the most delightful aspect is how everything weighs-up consistently, giving you the confidence to push, push, push.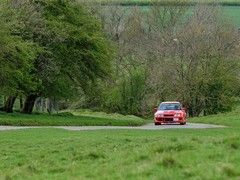 Every road feels like a rally stage in this car
Anyone who claims it's a digital driving experience, and Active Yaw Control takes primary sensations away, is talking out of their hat. AYC undoubtedly helps - especially in those unexpected, tightening bends - but transparently.
If you want one of your own, prepare for a long search, and don't expect bargains. The PH classifieds are a good starting point, but you absolutely must also join the Lancer Register and aim to get that cherished, enthusiast-owned example that pops-up from time to time. But prices are climbing, and if you're after the real deal in the right colours, like our featured example, owned by Chris Short, be prepared to pay a premium. Don't bother asking Chris, he's not selling...
We've already covered the why's and wherefore's of buying an Evo VI in great deal in the PH Buying Guide, but in short, check for a noisy gearbox bearings, abused brakes and dampers - and be prepared for eye-watering servicing bills that come round too quickly, thanks to the recommended interval of 4,500 miles.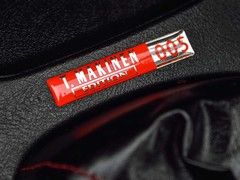 Four-time champ left his mark on the Evo
Of course, they're ripe for tuning and modification, and many people have enjoyed their Evo VIs when putting out silly amounts of power - but given how sweet, biddable, and outright fun, a standard TME actually is, we'd find it hard to argue against finding an unmodified car with UK history, and enjoy what is clearly an appreciating asset.
But values and investment aside, the TME must surely be the greatest, most definitive Evo of them all, because it has the uncanny knack of making the driver feel special. It's capable of serving up dynamic magic, and by simply being greater than the sum of its parts. Despite being the best part of 15 years old, if you know how to drive, and are on a flyer in a TME, very few cars will be able to keep up, let alone catch-up. And just for once, here's a car that lives up to the fanboy hype. That you can still buy one for relatively sensible money makes the TME not only the definitive Mitsubishi Evo, but probably also the quintessential PH Hero of them all.
Thanks to Evo VI TME owner Chris Short, photos by Max Earey

---
MITSUBISHI LANCER EVOLUTION TOMMI MAKINEN EDITION
Engine: 1,997cc 4-cyl
Transmission: 5-speed manual
Power (hp): 280@6,500rpm
Torque (lb ft): 275@2,750rpm
0-60mph: 4.6 sec
Top speed: 150mph
Weight: 1,365kg
On sale: 2000-2001
Price new (2000): £32,995
Price now: £7,500-£17,500