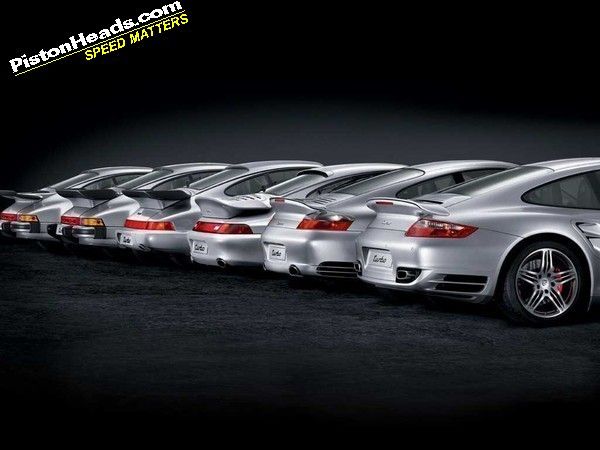 So it seems our drive in
the original 930
has tickled everyone's tastebuds for 911 Turbos. And to pick up from where that story left off we thought we'd indulge ourselves a little further and take a trip through the turbocharged 911's back catalogue for a bit of a history lesson. And, at the end of it all, we thought we'd have a poll so you can choose your favourite of the bunch.
---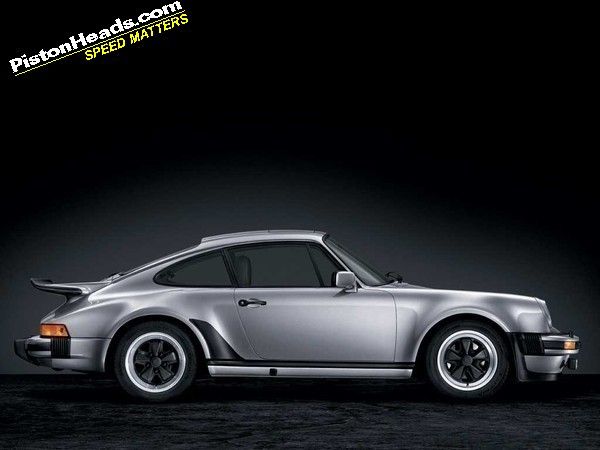 930
The scene setter, the story behind the
original 911 Turbo
– or 930 as it's often known – inevitably has its roots in motorsport and the monster 1,100hp 917/10 and /30 from the early 70s. But the car that debuted in Paris in 1974 had a more explicit link with a 911-shaped racer – the 1974 RSR Turbo which narrowly missed the overall win at Le Mans that year. 450hp from a 2.1-litre engine was an impressive demonstration of what forced induction in a 911 could achieve and the pressure to make a road car claiming the same technology was too much to resist, even in the midst of a fuel crisis and recession. The 3.0-litre production car it spawned had 260hp from its M930/50 engine, weighed just 1,140kg and hit 0-62mph in 5.2 seconds.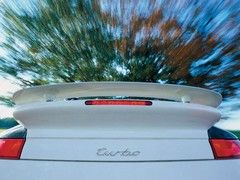 2.1-litre RSR Turbo of 1974 inspired road car
This focus on aggressively pursuing new technology has been at the heart of the Turbo story ever since, whether it be the introduction of twin-turbo technology on the 993, ceramic discs on the 996 or variable-vane turbos on the 997.
Key moments in 930 development included the increase in capacity to 3.3 litres and 300hp with the updated M930/60 motor in 1977, helped with the introduction of a substantial intercooler housed in an enlarged airbox beneath that trademark rear wing. Through the 80s the Turbo remained, at core, unchanged bar a last-gasp adoption of the G50 five-speed gearbox with shorter ratios in 1988, slicing two tenths of the 0-62 time to 5.2 seconds and improving flexibility.
From an original projection of 1,000 sales nearly 21,000 930s were eventually built, including specials like the 935-inspired SE 'flatnose' and run-out 1989 LE with the flatnose's 330hp and side vents.

---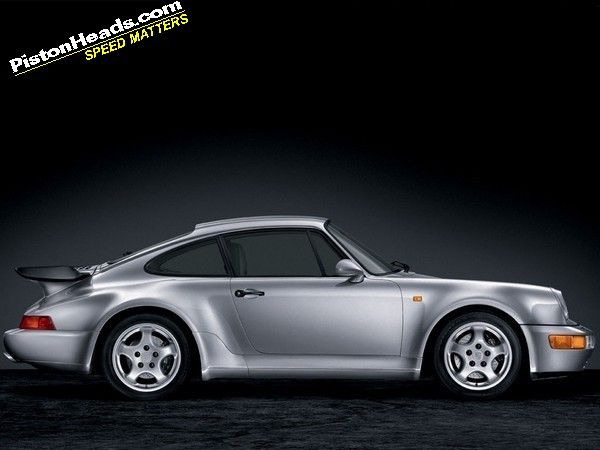 964
A new generation of 911 eventually spawned its own Turbo version, the first
964 Turbo
appearing in 1991 with an updated M930/68 version of the 930's 3.3-litre engine to give 320hp. Three-way catalytic convertors meant it met the latest US emissions standards and this was a much more modern Turbo. But the 911 had put on weight, the 3.3-litre 964 tipping the scales at 1,470kg, and the Turbo was in danger of losing its decisive power and performance advantage over the lesser models. Indeed, 0-62mph in 5.2 seconds matched the original 3.0-litre 930, even if top speed was now nudging 170mph.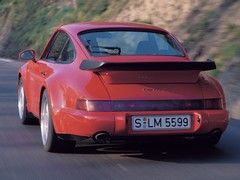 Single turbo 3.6 gave 964 Turbo proper pace
The first response to this was a Turbo S with a larger turbo, 381hp and a substantial weight saving of over 180kg compared with the standard version. Just 80 were built and it remains one of the most collectable Turbos of the entire model range.
The S was a properly hardcore 911, a more mainstream solution to the 964 Turbo's pace coming with an increase to a 3.6-litre, single-turbo engine with 360hp. 0-62 dropped to below five seconds – 4.8 to be precise – and top speed now topped 175mph. A boost in torque from 332lb ft to 383lb ft was a significant gain for the 3.6, with the result that among enthusiasts, these are widely considered to be one of the sweetest 911 Turbos ever.
For those who wanted more, though, Porsche created one, final 964 Turbo S, this time more plushly-equipped and based on the 3.6-litre engine. Thanks to the fitment of the X88 package, which included an uprated turbocharger, a modified head and new camshafts, power was now up to 385hp. 93 of these Turbo 3.6S models were produced, 66 of them with a 968-esque flat nose and 10, for the Japanese market, again featuring a 935-style nose with pop-up headlamps. Produced in 1994, these served as the 964 Turbo's run-out model, and while they weren't the last two-wheel-drive turbocharged 911s, many consider them the end of an era.

---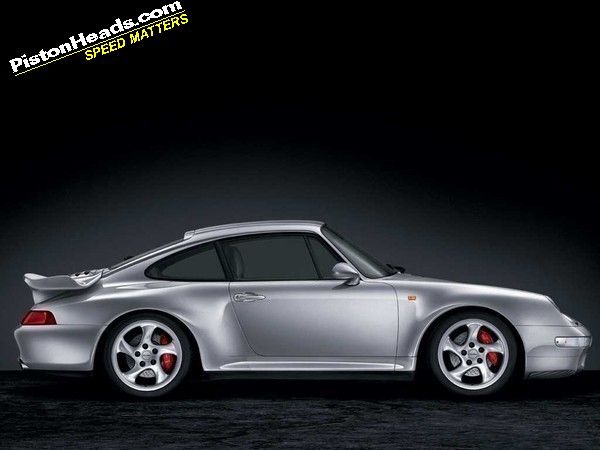 993
Big changes arrived for the 993, not least 959-inspired twin-turbos (though in this instance parallel rather than sequential) along with four-wheel drive and a significant increase in power to over 400hp. The M64/05 engine had 408hp from the off, good for 0-62mph in 4.3 seconds and 182mph all-out. With two smaller turbochargers response was improved, taming the off-boost lethargy earlier Turbos were notorious for. At the same time, four-wheel drive made it less of a handful, the Turbo evolving from a hairy-chested sports car with a reputation for biting the unwary into something faster but more refined and usable.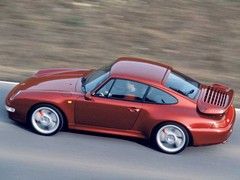 Four-wheel drive and twin turbos for 993
As production drew to an end in 1998 Porsche sent the 993 out with a bang, creating the homologation GT2 which was rear-wheel drive only, and had mad riveted-on wheelarch extensions and a production run of just 57,
according to RM Auctions
which sold one recently for £324K. The even more exclusive
Clubsport version
, of which just 20 are rumoured to exist, had as much as 450hp and remains among the most desired of modern 911s.
Too rich for you? You could upgrade to a 430hp Turbo S, which came with 959-style vents in the rear arches. As the last air-cooled Turbo, the 993 marked the end of another significant era in the Turbo's evolution. In total 6,314 993 Turbos were built.

---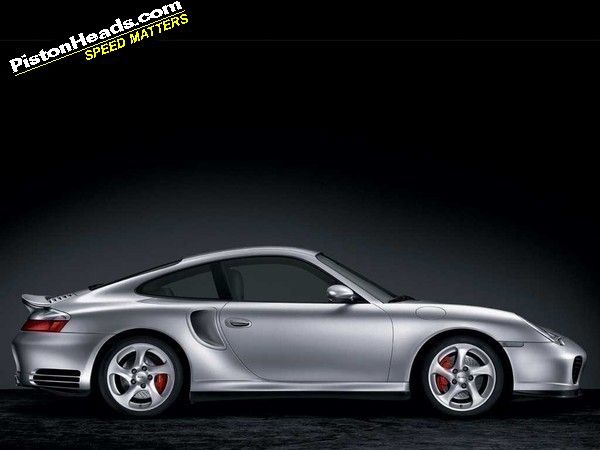 996
A new millennium brought a lot of changes to the Turbo package for
the 996
, not least an all-new water-cooled M96/70 engine based on the famous Mezger GT1 powerplant. Twin turbos and four-wheel drive remained at the core, new features like optional PCCB ceramic brakes continuing the Turbo's tradition of making new technology mainstream must-have desirable.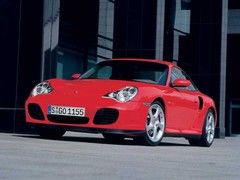 996 Turbo is a conspicuous bargain today
Power was now 420hp and if there was any reluctance among Porsche customers to embrace this new age Turbo it wasn't obvious at the outset, the first year's production run immediately raised from a projected 2,500 to 4,000 based on initial demand. Weight had expanded to 1,540kg but 0-62mph was now dealt with in just 4.2 seconds and top speed was 190mph.
If the Turbo had got a bit middle-aged and sensible Porsche had an answer the following year, stripping out the four-wheel drive and fitting a raging 462hp dry-sumped turbocharged 3.6 to create the new-age GT2. Minimal safety aids and an explosive power delivery were a nod back to the hairy chested Turbos of the 80s, the GT2 dropping 20mm in ride height, saving 100kg over the portly standard Turbo and clocking a 7min47sec 'ring lap to beat even the GT3. If you had the brass ones to try it. 0-62mph was just a tenth faster than the standard Turbo but the top speed was 196mph.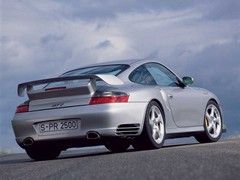 Hairy GT2 marked return of scary 911 Turbos
Added bite for Turbo customers came in 2002 with the popular X50 power upgrade, boosting the 996 from 420hp to 450hp, with torque climbing from 413lb ft to 457lb ft and spread over a wider rev range. This was incorporated into the 2004 Turbo S as a standalone model, complete with PCCB brakes and other niceties. The GT2 meanwhile gained more power still to develop 483hp and 472lb ft, hitting 62mph in four seconds dead en route to 198mph. A fixed carbon rear wing denoted the hardcore Clubsport package.
---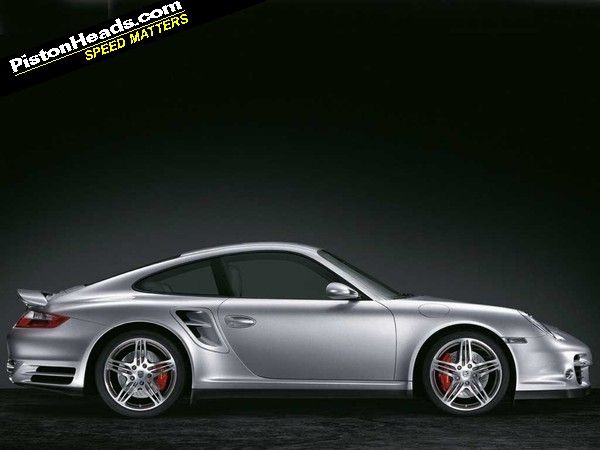 997
The outgoing Turbo continued the 996's push into more refined, GT territory while maintaining the ludicrously accessible punch and all-weather security more modern Turbos have traded on. The big technological innovation for
the 997
was the arrival of variable vane VTG turbos, technology previously only available on diesel engines and a major engineering coup for Porsche.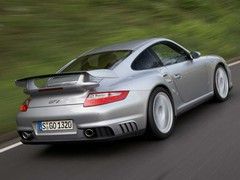 Lighter, ludicrously fast and rear-drive only GT2
Launched in 2006, the first-gen 997.1 Turbo had 480hp and, like the 996 Turbo S, 457lb ft of torque. 0-62mph dropped below four seconds to 3.9 and 0-125mph came up in just 12.8 seconds. But the Tiptronic was even faster, chopping 0-62mph down to 3.7 seconds and 0-125mph to just 12.2 – three tenths faster than the last GT2. Even more impressively, Tiptronics with the optional Sports Chrono Package Turbo got a 10-second overboost to 501lb ft to slice nearly a third of a second out of the 50-70mph sprint.
Having now established 'GT2' as the rear-drive 911 for the hardcore Porsche duly obliged with a 997 version in 2007, topping 200mph for the first time thanks to 530hp, 501lb ft and trick features like a titanium exhaust, lightening both the rear end of the car and your wallet to the tune of £131K.
2009 brought yet more innovation, a boost to 3.8 litres, direct-injection and 500hp bringing in what Porsche described as the first entirely new engine in the Turbo's by-then 35-year history. But it was the adoption of the PDK double-clutch gearbox and tech like torque vectoring – badged PTV – that really elevated the Turbo into a GT-R chasing do-it-all supercar you could use everyday. At last here was a two-pedal Turbo able to hold its own among the manual purists.
If that was all too civilised the next year saw the craziest production 911 yet, the rear-driven GT2 RS with 620hp, a 7min 18sec 'ring lap, 0-125mph in a scarcely believable 9.8 seconds and a pricetag of £164K. Or you could go for the 530hp PDK-only Turbo S, 0-62mph in 3.3 seconds 0-125 in 10.8 and 196mph laying down a formidable benchmark for the next generation of turbo on the all-new 991 platform.

---
Turbo timeline – the evolution
1974 – Porsche 911 Turbo 3.0 unveiled
1975 – Production 911 Turbo on sale
1977 – 930 911 Turbo uprated with 3.3-litre engine
1986 – 330hp 911 Turbo SE 'flatnose' becomes an official model
1987 – 930 Targa and convertible 911 Turbos join the line-up
1988 – G50 five-speed gearbox replaces four-speed
1989 – 930 production ends with LE run-out model
1991 – 964 911 Turbo revealed
1992 – 964 Turbo S revealed
1993 – 964 Turbo upgraded with 360hp 3.6-litre engine
1994 - 964 Turbo 3.6S introduced
1995 – 993 911 Turbo revealed; brings four-wheel drive
1998 – 993 GT2 limited edition special
1998 – 993 Turbo S with up to 450hp
2000 – 996 911 Turbo introduces water cooling
2001 – 996 GT2 goes back to basics
2002 – 996 X50 powerkit offered
2004 – 996 Turbo S introduced
2004 – 996 GT2 upgraded to 483hp
2006 – 997 Turbo introduced
2007 – 997 GT2 introduced
2009 – 997.2 introduced with PDK, paddles and PTV
2010 – 997 GT2 RS; most hardcore 911 ever?
2010 – 997 Turbo S sends 997 out in style

---
Which is the best Turbo? Vote in the poll and discuss here!