You know when you reckon if you keep telling yourself something often enough you'll believe it to be true? That's the deal with
. It's a road car, you tell yourself as it stands on its air jacks in a pit garage at Brands Hatch. Course it's a road car. All road cars have air jacks.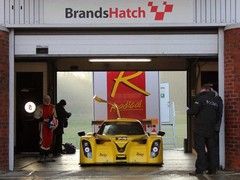 Race suit at a track day actually needed here
You glimpse through the gullwinged hatches - doors would be a generous description - and take in the burly integral roll cage, the data logging equipment, the tiny suede covered wheel and harnessed racing seats. Of course it's a road car. All road cars have a brake bias dial.
Walking round the back and peering through the engine hatch you catch sight of the throttle-bodied Ford V6 and pushrod-operated Intrax dampers, the braided hosing and anodised aluminium connectors. Definitely a road car.
Speed bump
Thing is, for the Radical guys this IS a road car. The SL is a road legal SR3, which is a subtle but important difference. But the RXC really has been built for the street. They've even made a video to prove it goes over speed bumps.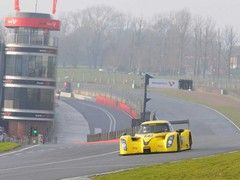 Slithery Brands doesn't help confidence
That'll be at the 110mm road ride height setting, not the 40mm one the car's running today. The latter uses shorter-stroke dampers and has just 22mm of suspension travel at the front, a thought provoking number if one was considering bashing over the kerbs on track like you would in, well, a road car. James from Radical leaves that thought hanging as he goes out for a shakedown, the well practiced checks between each run rather more professional than the typical trackdayer's insertion of towing eye, clearing of coke cans from the passenger footwell and half-hearted kick of the tyres. Of course it's a road car. All road cars have a pit crew and factory liveried support truck.
Watching from the pitwall as James thunders past, Ford V6 reverberating off the empty Brands grandstands, the RXC looks nothing like a road car. Flat out the aero will match the car's mass of 900kg in downforce and as it hammers along the pit straight out of Clearways it has that pinned down look of a pukka closed cockpit racer running at pace, tensed springs lifting just a tad over the crest as James brakes, rattles through a couple of staccato downshifts with flames belching from the triple exhausts and vanishes down Paddock Hill at what looks like race pace from where I'm standing. Gulp.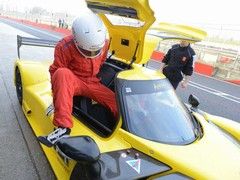 "Just nipping off to Tesco dear"
This isn't helping. Maybe getting suited and booted will help get in the mood. After all, I always wear race suit, boots, gloves and HANS helmet on track days... Oh, hang on, I don't.
James sits beside me for the first run, which is intended as a confidence booster but instead raises the opposing pressures of wanting to do the car justice without stuffing it into a gravel trap. With a PSSSSSST-CLACK first gear engages from the right paddle and I'm waved out of the pitlane. This is - hopefully - the only time I'll be needing the clutch pedal until I return and it's more progressive than feared meaning no embarrassing kangarooing out of the garage. A detail but for the gentleman driver target audience an important one. After all, having shelled out close to £100K on a 'racing car' you don't want to be seen stalling it trying to depart the garage.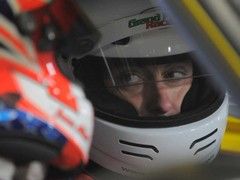 Who's more nervous - Dan or the man beside?
Although the bubble of the cockpit looks small it doesn't feel oppressively cosy with two helmeted heads within, the roar of the V6 and the fact we're both full-faced up meaning conversation won't be flowing. I'll assume that unless he puts his hands over his eyes or grabs the wheel we're going OK but I feel all fingers and thumbs as I try and gauge the grip levels on the Dunlop race wets. Seems there's a useful amount but the sensory deprivation makes hunting out the nuances a challenge.
Off a cliff
There's a danger in aero enhanced cars like this and Caterham's comparable (but not road legal) SP.300/R that the higher limits and sheer drop beyond means as a 'civilian' you're less inclined to go anywhere near them. Compounded by the fact unless you're willing to enter this narrow operating window that separates the racers from the wannabes the car just doesn't work as it should and in fact feels even more nervous.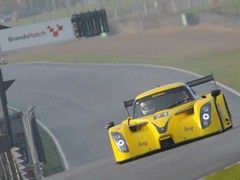 It's a road car, Jim, just not as we know it
Despite having double the downforce of the Caterham Radical has anticipated this and the RXC does a reasonable job of communicating approaching limits. On corner entry you get a warning shot of understeer if you've carried too much speed in, benign balance on trailed brakes and plenty of lock (unlike the SP.300/R) if you overwhelm the rear tyres on the way out.
It's dabs and darts of correction on the greasy Brands tarmac but the fact even in my nervous state I'm able to react to and deal with them lowers the heart rate a tad. Brake pedal feel is good but I still manage to lock up a front wheel at Druids, James clicking the brake bias back a notch in response.
It's not punch in the back fast, even with this car's optional throttle body upgrade to 380hp, but the engine feels unburstably strong and has been chosen for its toughness and road car service intervals. It also sounds and feels usefully more burly and businesslike than the supercharged Duratec in the SP.300/R, even with a conservative sub-7,000rpm redline. Upshifts punch through with a percussive jerk but these downshifts are butter smooth, enabling you to brake and shift deep into the corner without upsetting the car. I'm relieved to get back to the pits, James offering a diplomatic "that was smooth". One word for it.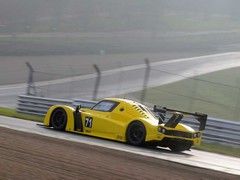 Downforce just kicked in - phew
I beg a second run and go out solo. Confidence would be going a bit far but I feel a little more comfortable pushing harder and the Radical responds in kind, goading braver brake points and faster entry and rewarding with an increase in speed that sees me a gear up on each straight. Through Paddock the familiar push of G into the compression kicks in earlier thanks to the downforce and here I get my first taste of the RXC's real pace. Meaning I totally outbrake myself for Druids, just about turning it in after a belated and squeaky cheeked reappraisal of my braking point.
Catching a Lotus Exige race car his spray means hitting the single wiper. As it flicks back and forth it feels as if the bodywork has shrunk and become one and the same with my helmet and visor, the view going a bit LMP. Suddenly I'm on the Mulsanne or chasing a Porsche 962 round Spa. Suddenly I feel like a racer in a proper racing machine. Of course it's a road car. All road cars make you feel like that, don't they?

---
RADICAL RXC
Engine: 3,700cc V6
Transmission: 7-speed sequential (pneumatically shifted), rear-wheel drive
Power (hp): 340@6,750rpm
Torque (lb ft): 320@4,250rpm
0-62mph: c. 2.8sec
Top speed: c. 175mph
Weight: 900kg
MPG: N/A
CO2: N/A
Price: £94,500 (inc. VAT, before options)