The Internet, which we know is right about everything, reckons that Italy has produced many famous mathematicians. Few of them work in the field of the country's automotive PR though, where the bosses still seem to struggle with basic division. How else to explain Alfa Romeo's decision to invite 50 journos to drive the dizzying total of four Giulia Quadrifoglio Verdes?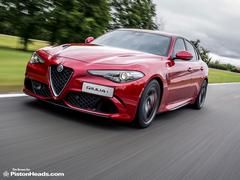 Sod the suspense - it's really good!
There was a relative abundance of the lesser version of Alfa's
to try - read about the diesel and 2.0-litre petrol versions soon - but PH had made the trip to Italy in hopes of spending some time in the
, complete with a 510hp twin-turbocharged V6 engine. The reality was as veteran soldiers describe combat being - lots and lots of waiting followed by a very brief period of excitement.
It was nearly a total wash-out though; torrential rain at the Balocco test track led to us being told we weren't actually going to get to drive the car at all, merely experience it from the passenger seat wearing heart rate monitors. That caused something close to a mutiny, with the eventual compromise that we would be allowed onto the handling track only in the presence of a chaperone to make sure we didn't engage 'Race' mode and thereby turn off the stability control. (This after watching a video montage of Quadrifoglios drifting in slow motion.)
I want to break free
Snapper Tim and I come up with a sneaky plan B - to nab the spare car, which has been reserved for photography. It still comes with a minder to stop me from having too much fun, but it does allow for a chance to familiarise myself with what's definitely the most exciting Giulia while taking some snaps on a separate track.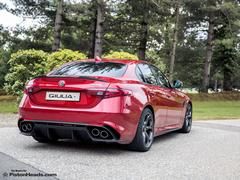 Styling is safe, but executed very nicely
It looks much better than the standard car. Like BMW's recent M cars the Quadrifoglio gives the strong impression that it was designed first, with its lesser sisters then visually downtuned. It's still not the most original piece of styling, but it's chunky and muscular in a way the standard Giulia isn't, those gorgeous leaf-pattern alloys filling its arches and with a rear diffuser that looks like it could stick it to the ceiling. Lightweight parts include a carbon fibre bonnet, roof, front splitter and the lippy little tail spoiler. Carbon ceramic brakes are an option. Extensive use of aluminium elsewhere enables Alfa to claim a kerbweight of 1,580kg for the manual (there isn't a figure for the auto yet.)
The cabin features lots of carbon trim, huggy sports seats and - the crucial difference - a rotary controller for the DNA dynamic mode system that includes that all important fourth setting - 'Race'. This tightens up the adjustable dampers to their most aggressive, rat traps the throttle pedal and transmission, makes the exhaust louder and turns off the stability control.
The photography car also has a manual gearbox which, as with other Giulia variants, won't be making it to any right-hand drive markets. It's fun to try it, though - it's got a nice heft to it and shifts accurately. It also gives a chance to confirm that the 2.9-litre twin-turbo V6 has a fair bit of low down lag, but gathers pace quickly once the tacho needle gets past the '3' mark.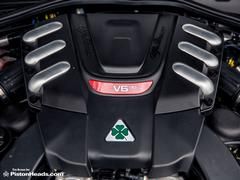 Revvy, sounds good, plenty fast enough - success!
The official line in the press kit is that the new V6 engine is "inspired by Ferrari technology and technical skills", which seems a very odd way of putting it. It's actually the first six-cylinder member of the F154 family, the one with a 90-degree vee that, in V8 form, powers the Ferrari California T, 488 GTB and also the Maserati Quattroporte GTS. It's not to be confused with the petrol V6 in the Ghibli and (non-RHD) Levante, which have 60 degrees between their cylinder banks. The Alfa's engine is all-aluminium and has selective cylinder deactivation to boost economy. All right-hand drive versions will get the eight-speed ZF auto 'box, with drive delivered to the rear end through a trick torque-biasing differential which uses two electronically controlled clutches.
Rude not to
That's more than enough theory, but my determination to put some of it into practice is limited by the sort of wait times for a go on track normally the preserve of theme park rides on a sunny Saturday. On the plus side, drying conditions mean that we've lost the chaperones, and Alfa boss Harald Wester even responds to a question about motorsport ambitions in the press conference by inviting us to go and have a race on the track.
Eventually my turn comes around. The Quadrifoglios are being sent out on one of the longest configurations of Balocco's handling track, but with cone chicanes put on the straights to stop things from getting too exciting. I start in 'Dynamic' mode, so stability control stays on and the rear differential is doing its best to help the car turn and get traction down.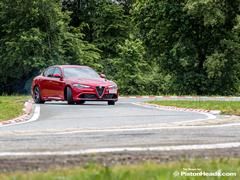 You want to be silly? The Giulia does too!
It's properly quick. The V6 has a nice snarl to it and seems to enjoy being revved to the 7,000rpm redline, and while the eight-speed auto box can't match the snap-crack shifts of a DSG it feels quick enough when worked in manual mode. Grip levels are impressively high, too - and those optional carbon-ceramic brakes seem tireless, although the pedal is a bit inert after the standard car's excellent stoppers. The direct steering feels much better with the Quadrifoglio's more aggressive chassis settings and under higher track loads as well.
As in the diesel version, the Quadrifoglio's 'Dynamic' mode still doesn't allow any meaningful rear-end slip, although electronic intervention is far more subtle than in that car. However, it's not long before the rotary switch is in its 'Race' setting and the stability is fully off. Rude not to, right?
Everything starts to make sense. The Giulia is brilliant - throttle adjustable in a far more friendly way than the BMW M3. It starts to slide at lower speeds but does so more progressively and with everything relayed back in real time. The quick-acting steering is more than up to keeping everything pointing (mostly) in the chosen direction as well; it feels like one of those cars you could drive hard for a very long time without getting bored of.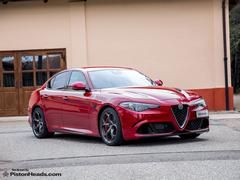 Bring on the M3. No, really
Time isn't something I've got much of - there's a queue of other journos anxious for their go. Like the best theme park rides my time in the Quadrifoglio seems to be over practically before it's begun and I'm watching the next willing victim blast off while I try to gather my thoughts.
Ancora per favore
While praise for the lesser Giulias was heavily provisoed (spoiler alert), enthusiasm for the range-topper is unambiguous after this brief first impression. There's a fine tradition of journos getting a bit over-keen after these Italian amuse-bouche drive events - I'm the guy who declared the 156 GTA to be the second coming after an almost equally brief first acquaintance. So I'm not going to leave too many hostages to fortune this time. But I'm really, really looking forward to having a proper go in the Quadrifoglio, preferably in the company of a BMW M3 and a Mercedes-AMG C63.

---
ALFA ROMEO GIULIA QUADRIFOGLIO VERDE
Engine: 2,891cc, V6 twin-turbo
Transmission: 8-speed auto, rear-wheel drive
Power (hp): 510@6,500rpm
Torque (lb ft): 443@2,500rpm
0-62mph: 3.9sec
Top speed: 190mph
Weight: 1,580kg
MPG: 33.2
CO2: 198g/km
Price: £55,000 (estimate), on sale September 2016.