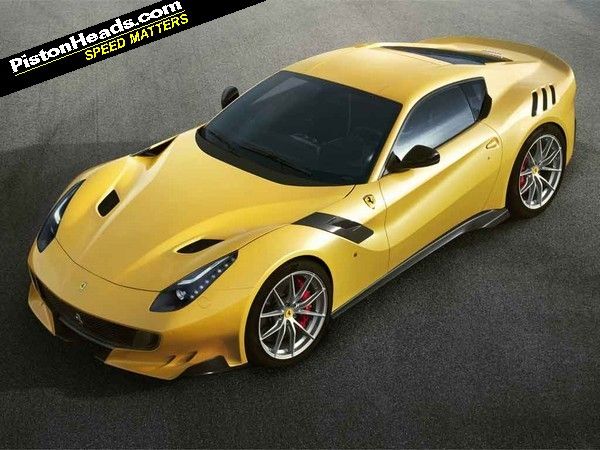 In the same way that a regular Ferrari F12 has 'F12berlinetta' as its official title, so this new Tour de France has a name that's rather an affront to grammar: F12tdf. And that seems about the only thing to dislike about it. As what could be the last front-engined, naturally aspirated Ferrari V12 supercar, it's one hell of a way to go.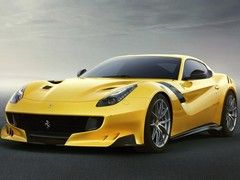 Similarly to the 458 Speciale, 430 Scuderia and
599 GTO
, the tdf takes a very fast Ferrari onto another performance plane entirely. The numbers for this F12 are ludicrous, even by the standards of 2015 Ferrari. Power from the 6.2-litre V12 is up from 740 to 780hp, made at 8,500rpm with a maximum engine speed of 8,900rpm. Eight thousand nine hundred! Torque is up to 520lb ft and weight is down 110kg to 1,415kg dry with undisclosed lightweight options - natch - which means 0-62mph in 2.9 seconds, 0-124mph in 7.9 seconds and a top speed of over 212mph. The dual-clutch 'box has been reworked to deliver upshifts that are 30 per cent quicker and downshifts with a 40 per cent improvement. The Fiorano lap time is now 1min 21secs.
It doesn't stop there either. Downforce is up by 87 per cent thanks to that wild new front end, the slashes in the rear wings and the longer, higher rear spoiler. The tracks are wider and the rear diffuser is new, the result an F12 of outrageous aggression even in the mellow yellow seen here. Imagine it in black...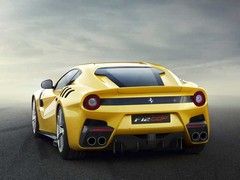 Anyone familiar with the
standard F12
will know it like to oversteer. A lot. Not only does the tdf have more power, it also has wider front tyres, up from a 255-section to a 275. A grippier front with another 40hp? Sounds like a recipe for tyre shredding anarchy, right? Not necessarily. To combat it, Ferrari has introduced 'Virtual Short Wheelbase' to the Tour de France, a four-wheel steer system that aims to improve turn-in and stability. The rear axle automatically adjusts to the optimum angle depending on vehicle speed, steering speed and steering angle.
Ferrari hasn't yet provided a breakdown of exactly where the weight is trimmed from in the tdf, stating instead that 'a radical redesign of the bodywork, interior, engine, transmission and running gear' have contributed.
The F12 tdf will be shown to the world at Mugello during Ferrari's World Finals on November 8. There will be 799 produced, no doubt with the vast majority sold already. Ferrari wasn't just going to leave the Aventador SV unchallenged now, was it?