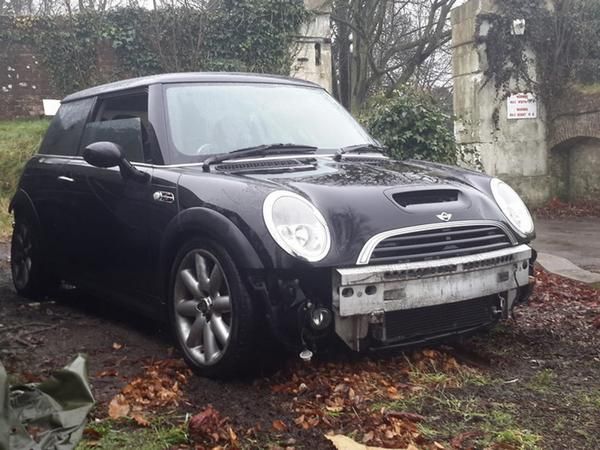 Police auctions aren't normally the first port of call when looking for a car. Let's just say if you're looking for 'one careful owner' bargains this probably isn't the place, the main concern being what the car was used for between the 'stolen' and 'recovered' bits of its recent history.
This is no different! An R53 Cooper S came up for auction with crash damage to the front, rear, passenger side wing and door and three airbags deployed inside. Oh! And it had no keys and the windows were open. Some of you might be thinking this isn't something you would poke with a ten-foot pole but PHer -01SQ- wanted a project car he could hone his engineering skills on.
With the interior in tatters, he went about stripping it bare and finding a black and red interior, which not only solved the passenger airbag problem but also spruced up the inside a little more. The dashboard came out as well and was replaced with a Chrono pack cluster as well as spraying the silver detailing black. The major issue is a car with no keys, but our OP has an ace up his sleeve and is just going to replace the whole unit with a JCW one with some clutch and flywheel upgrades. We are looking forward to seeing the finished product and back on the road. Congratulations -01SQ- your Mini Cooper S R53 is our Reader's Car Of The Week.
Read the full build thread here