On the list of cars you wouldn't expect to see at the Nurburgring, a Rolls-Royce SUV has to be up there with the Citroen AX diesel and the, er, Lamborghini SUV. Guess that's the world we live in. But regardless of location, this is our best look yet at the Cullinan, so here goes.
Definitely, a Rolls-Royce, isn't it? While still heavily disguised there are some very clear cues familiar from elsewhere, including that very prominent grille, small rectangular headlights and the doors that will open outwards from the B-pillar. This is not some curvaceous, slinky SUV either, but a big and bluff 4x4 in the more traditional Range Rover mould. It's one taken on by the Bentayga as well, of course, likely to be the Cullinan's closest rival.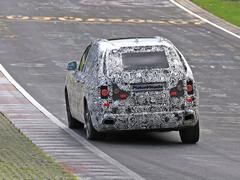 For now, we'll say the back of the car isn't quite done, what with the odd lights, pinched rear screen and heavy disguise. Will it follow the design themes introduced with the Ghost family of cars? Or start off on a new path? All theories and views welcome!
What can be in doubt from here is just how committed the test driver is, the Cullinan lent right over on its springs at Brunnchen 1; look at that front inside wheel too! We've even got driver and passenger helmet lean...
Lord knows what a Rolls-Royce Cullinan might do around the Nordschleife, but it would surely be some spectacle to watch. Has Rolls-Royce ever issued a lap time before? What engine would it use? Is there an optional track focused tyre?!
Lots of questions, both serious and otherwise, still need to be answered then. Expect more details after the summer, once we get back into the swing of motor shows again.
Photos: S. Baldauf/SB-Medien