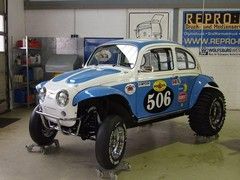 Full-size car is exact replica...
Tamiya will unveil a limited edition re-issue of its iconic Sand Scorcher r/c car at the Nurnburg toy fair tomorrow - alongside an amazing full size replica built by German VW specialists Bug Box.
The new 1:10 scale Sand Scorcher will be available at Tamiya dealers later this month, but if you want one (and we know you do!) it might be worth having a word with your local stockist in advance, as it's reckoned the kits are likely to run out fast. We're told the R.R.P. will be £299, which includes radio and batteries, etc, and at that price we're tempted to buy a couple ourselves - one to leave safely packaged in the attic, while we relive our misspent childhood with the other in the PH car park.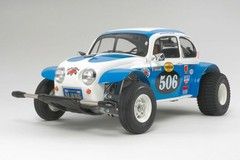 ...of this little beauty, now re-issued
Although the Sand Scorcher is to all intents and purposes a straight re-issue of the 1980s classic, the latest kits feature a raft of significant upgrades such as a reinforced duralumin and FRP chassis tub, newly designed die-cast front and rear suspension wishbones for greater strength, up-rated dampers and a transparent waterproof case for the batteries and r/c bits. (
More info here
.)
If you want a full size Sand Scorcher, you'll need to splash out a bit more cash. Bug Box reckons its replica - which includes many specially commissioned parts - has set the company back the thick end of €50,000.