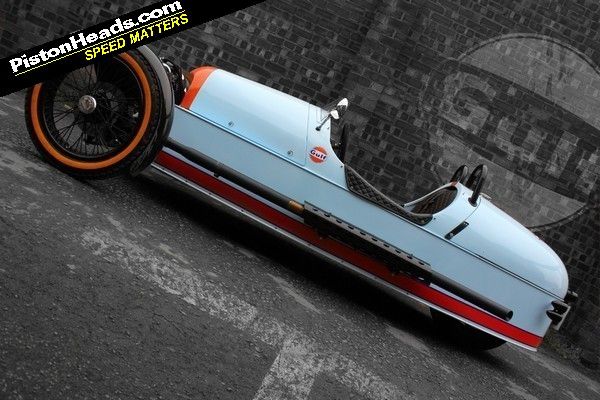 What do the Ford GT40, McLaren F1, Porsche 917, Aston Martin DBR9 and Morgan 3-Wheeler have in common? Well, thanks to a new limited range from Morgan, the latter joins the rest as another vehicle that looks fabulous painted in the Gulf Oil colours.
Limited to just 100 units, the 3-Wheeler Gulf Edition is inspired by Morgan's Le Mans Prototype, which races in the iconic colours.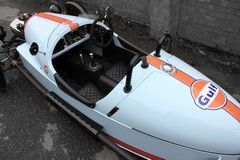 Price of nostalgia is £29,000
In addition to the sky blue and orange paintwork, the 3-Wheeler Gulf Edition features orange-walled tyres and some new badging inside and out. The interior is largely identical to the regular car, albeit with some orange stitching on the steering wheel.
Mechanically, the Gulf Edition is unchanged any other 3-Wheeler. This means its 1990cc V-twin produces 115hp and 100lb ft, all of course sent to that solitary rear wheel.
The Morgan 3-Wheeler Gulf Edition will be sold at £29,162.50 plus VAT; call it £35,000. With the standard car available from £25,000 plus VAT, a large premium is certainly being attached by Morgan to a colour scheme. However, its limited edition status may also be used to justify some of the additional cost. And let's face it, if the 3-Wheeler appeals as a concept, why wouldn't you want a Gulf Edition?