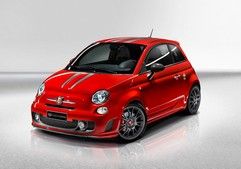 £30k. A lot for a red Fiat...
Fiat is set to bring its Abarth 500-based 695 Tributo Ferrari to the UK (well, 152 of them), and in right-hand drive form.
The Tributo Ferrari, first revealed last September, was not originally destinatined for the UK, but Fiat is aiming to grab a piece of the same sort of market that Aston Martin is going after with its Toyota iQ-based Cygnet - in other words Fiat wants Ferrari owners who want an additional 'everyday' car to buy it.
It won't be cheap, however - Abarth is going to be asking 35,500 euros (just under £30k) for the privilege.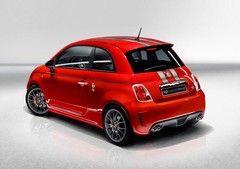 ...but you do get four exhausts
Power comes from a tweaked version of the Abarth 500's 1.4-litre turbocharged motor with what Abarth will only describe as 'more than 177bhp', which is coupled to a semi-automatic paddle shift gearbox.
Other dynamic tweaks include a variable -pressure exhaust that changes the engine note once you pass 3000rpm, four-piston calipers clamping onto 284mm Brembo discs and beefed-up suspension.
Visual revisions include carbon fibre door mirrors, a F430 Scuderia-aping grey rear diffuser and - of course - a red paint job. Inside there are black leather bucket seats, a leather steering wheel and aluminium pedals.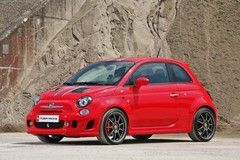 Pogea's 260bhp take on the car
Meanwhile, if 'more than 177bhp' isn't enough, German tuners Pogea racing will tweak your Abarth 500 to a cool 260bhp. This (we think) starts with a regular Tributo Ferrari, which then gets upgraded ECU software, a choice of two turbos, a new intercooler and Bosch fuel injectors.