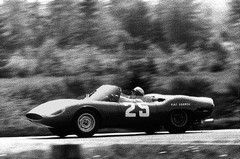 Not the new Abarth roadster...
Abarth will unveil a bespoke mid-engined roadster in 2012 - and latest reports suggest it won't be
based on the KTM X-Bow or Lotus Elise
as previously thought.
Abarth's unique sports car, which will hit showrooms early in 2013, will be a nod to the 1960s, when Abarth produced a series of bespoke-bodied sports and racing cars.
According to an Autocar report, the new car will echo the layout of the Lotus Elise, employing a transverse, mid-mounted layout, a similar roof mechanism and even similar proportions. Power, as expected, will come from Fiat's new MultiAir engine range, while transmitting the power will be Fiat Auto's soon-to-be-launched dual-clutch gearbox.
It is also reported that the roadster will be pitched at around £25,000 - which is presumably one of the main reasons for Fiat's rejection of the ultra-expensive, carbon fibre-heavy KTM X-Bow being used as the basis for the car.
And it might just be our imaginations, but could it be possible that Fiat's decision not to use Lotus as its engineering partner for the Abarth roadster has something to do with the fact that Lotus CEO Dany Bahar is ex-Ferrari? Is this a good ol' Italian blood feud? Who knows...