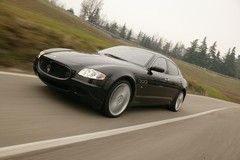 Quattroporte not long for this world
Maserati is due to unveil the replacement for the ageing beauty that is the Quattroporte saloon at the Frankfurt motor show this autumn, at least according to rumours swirling round the webosphere at the moment.
The new car, which is codenamed M156, will use an updated version of the current 4.7-litre V8 - massaged almost inevitably for better fuel economy and emissions figures - while the styling is expected to be influenced by the look of the GranTurismo.
But an all-new Quattroporte isn't the only new Maserati on the way. The company has bold ambitions to push sales to 20,000 units a year (last year it managed 5675 cars, while its record year was 2008, with just under 8600 cars built) and to help it achieve this it plans to add a smaller saloon to the range in 2014.
This car - known in Maserati-speak for now as the M157 - will eventually take on the higher echelons of the BMW 5-series and Mercedes E-class market segments, while the new Quattroporte will be pushed a little further upmarket than the current model.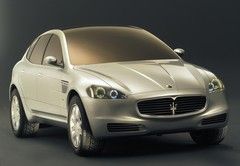 The final prong of Maserati's new-model initiative will be the Luxury SUV idea that the company has toyed with for so long (the Maserati Kubang concept - pictured, right - was doing the rounds way back in 2003). This has finally come to fruition thanks to parent company Fiat's tie-in with the Chrysler Group - the new SUV is expected to share its platform architecture with Jeep models.
All of which is excitingly ambitious, but it does leave us with one burning question unanswered: if the Quattroporte name means simply 'four-door', what will Maserati call the smaller saloon?