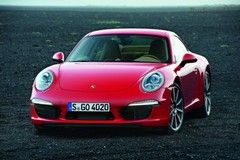 The first official pictures of the new 911 (that'll be the 991, now) have leaked on to the internet just under a month before the new car gets its official public debut at the Frankfurt motor show.
So what to note? Well, you can never expect dramatic changes when it comes to Porsche updating its 911 and, true to form, the evolution of the car is as conservative as a Daily Mail reader.
Even so, the sleeker, simpler look is evident. At the front there are fuller, more wide-eyed LED headlights, while the tail lamps have been slimmed down.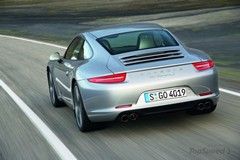 Inside, the 991 911 takes its cue from the Panamera and Cayenne interiors, though the strong horizontal ridge across the top of the dash - a trademark 911 interior design feature - remains. It's also interesting to see that the 911 model designation back on car's rump.
We haven't yet got the full gen on what's under the bonnet, but we do know the standard Carrera gets a (downsized) 3.4-litre flat six with around 350bhp, with the S model getting a 3.8-litre version with about 400bhp. Power for both cars will be transmitted to the road via either a seven-speed PDK or a seven-speed manual gearbox.