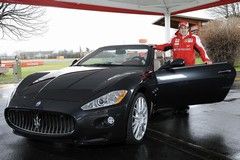 It's tough being an F1 racing driver at the height of your career. Aside from the glamour, the girls and the parties, there are the exotic new company cars being shoved at you from all sides. No wonder PH's novice racer Riggers is so fired up by his opportunity in the Caterham Academy this year...
Back in the real world, and hot on the heels of Ron Dennis promising to sort out a McLaren 12C each for Lewis and Jenson last week, comes news that Ferrari driver Fernando Alonso has just taken delivery of a rather delectable Maser GranCabrio.
According to Maserati's press release, the Spanish driver has chosen Grigio Granito (granite grey) for his GranCab's bodywork, while the interior features a combination of Pearl Beige and Bordeaux leather, matching a soft top in the same Bordeaux shade.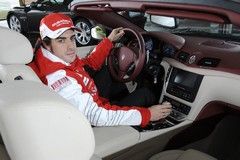 Senor Alonso was particularly impressed with the roominess offered by the GranCabrio, the company says, as it's perfect for four adult passengers. (In fact the GranCabrio is the first four-seater convertible in the history of Maserati.)
Well, we're glad he likes it, but we sort of wish he'd been more impressed by the 440hp V8 and the driving performance. Still, that's publicity gigs for you!
Either way, Maserati tell us the first right hand drive examples of the GranCabrio will reach UK showrooms in April at a price of £95,510. And after posting this shameless plug here's hoping they let us have a go in one...