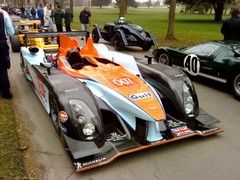 Aston Martin's brand-new Le Mans Challenger, the AMR-One, has had its first public outing at the Goodwood Festival of Speed press day.
Being the keenly enthusiastic journo that he is (and dare we say a bit of an Aston fanboy), PH editor Chris-R grabbed a few quick words with Brit Darren Turner, who will be campaigning the new Aston at Le Mans and various other endurance events this year, about how the development of the new car is going.
"The car ran at Snetterton on Saturday and did about 20 laps," says Turner. "The chassis seems to be working okay, but now it's really about getting the engine up to speed - that's where all the work is going to be as it's all new."
And that's the difficulty at the moment, reckons Chris-R. Although the car will eventually be running around 550bhp, they're not there yet, and in fact Turner admits that they've not yet got the AMR-One running fast enough to really get to grips with the car's aero package.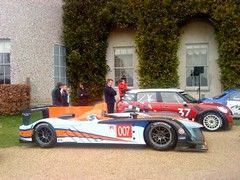 Even so, despite the teething troubles (as our pic shows, stuff like exhaust insulation hasn't been properly sorted yet), the car is definitely getting there.
But is the AMR-One programme running along on time? "Well, we missed Sebring and the car's first real test will be Paul-Ricard in a couple of weeks," says Turner. "But really that's all just part of the development process. It's all about building up to be as rapid as possible at Le Mans."
The big thing is the new engine. We wondered just how much it affects the way the car drives. "The V12 had more torque," admits Turner, "but it had a lot more mass, a lot higher up than the new engine."
There's only one thing we're truly worried about her in the PH office, though - will the new 2.0-litre turbocharged straight six sound as good as the yowling old V12?
| | |
| --- | --- |
| Turner poses by latest company car | Exhaust clearly gets a bit hot |