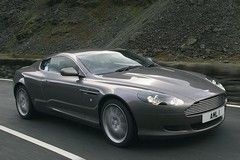 DB9, Golf GTI, Mini. It's hard to imagine a motor race with this trio sitting on the podium, but these three top the list of the UK's favourite cars of the past quarter-century.
In a survey where motorists were asked to vote for their favourite car from a list of 30 of the most iconic cars from 1985-2010, 10 per cent of Brits picked the Aston Martin DB9 as their favourite, while five per cent of those asked plumped for the VW Golf GTI. Third place went to the BMW Mini, which polled four per cent of the vote.
As well as the winning cars the poll, conducted by YouGov on behalf of Direct Line to help celebrate the insurance company's 25th birthday, included such disparate motors as the Ford Mondeo, DMC DeLorean and Audi Quattro. Bizarrely, the Jaguar XJ claimed second place, but only among the motorists of Wales and eastern England.
So that's the general public's favourite cars of the past two-and-a-bit decades - what's the PH favourite? Gentlemen, start your suggestions...