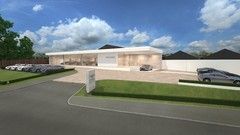 Newport Pagnell dealer coming soon...
Aston Martin is investing in its historic connection with Newport Pagnell, with a significant upgrade for its Works Service premises.
The company has just announced that an initial six month stage of what will be a two year development plan is underway, with the modernisation of the contemporary car servicing facility and the building of a brand new Aston Martin dealership.
Formalised 11 years after the company's founders Lionel Martin and Robert Bamford first thought of building their own cars, the roots of Aston Martin Works Service go back to those of the 'Service Department' of 1924. Nowadays the outfit has a worldwide reputation, and services, repairs and restores around 2,500 Aston Martins and Lagondas from around the world each year.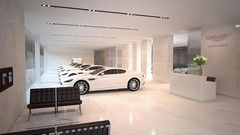 ...so the place could look like this!
The upgrade will also support the further development of the Works Tailored department, which as Aston's 'bespoke' division is responsible for personalising cars with unique colours, materials and finishes, through to integrating the latest additional technology, it says.