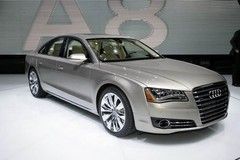 Audi's new A8 flagship luxury saloon has been revealed at the Detroit show to, er, enraptured murmurs of "it looks a bit like a stretched, overweight Audi A4, doesn't it?"
But despite the undeniable visual similarities with Audi's rather more humble saloon offerings, the third-generation A8 still aims to be the sportiest saloon in its segment.
To help fulfil its sporty promise, all new A8s will get Quattro four-wheel drive and an 8-speed automatic gearbox. Meanwhile, the clever fellows in Ingolstadt have shaved 110kg from the A8's kerb weight, despite the new car having grown in both length and girth.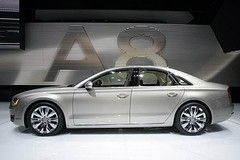 The first petrol-powered car to arrive will be powered by the familiar 367bhp 4.2-litre V8 from the current car, and will share brochure space with a gutsy 345bhp 4.2-litre V8 turbodiesel. A 247bhp 3.0-litre diesel will also follow on soon after.
An S8 version is rumoured, but it is likely to be powered by a turbocharged V8 rather than the current Lamborghini-sourced V10.
Inside, Audi has deliberately focused on a more 'premium' feel to the A8's cockpit. The result, to these eyes at least, has a rather American feel. Though whether that's more to do with the cream leather, light wood trim combination of the show car or the wide, flat dash (which Audi calls 'spacious styling') it's hard to be sure.
There's the usual gizmo count, too, with LED headlights front and rear, adaptive cruise control, a night vision mode with pedestrian 'marking', and an updated touchscreen MMI infotainment system to name but a few tech highlights.
The new A8 will go on sale in the UK from £54,760. Order books are open now.
You can read the full official Audi press release here