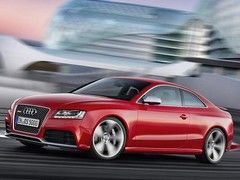 Audi is to reveal its latest RS-badged car, the RS5 coupe, at the Geneva motor show.
Precisely three decades after it first revealed the iconic and revolutionary four-wheel-drive Audi Quattro coupe, Audi is set to launch its latest all-wheel-drive super-coupe in the metal at the very same show.
Things have moved on quite a bit in those 30 years, however. Instead of 197bhp, the RS 5 gets a rather meatier 444bhp to put through its wheels, and 317lb ft of torque between 4000rpm and 6000rpm.
That's enough, says Audi, to propel the RS 5 to 62mph in 4.6secs. Top speed is limited to 155mph.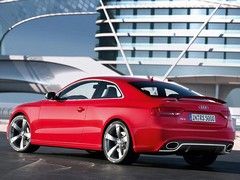 Despite 4.2 litres being a familiar capacity for an Audi V8 (you may remember it from such models as the most recent RS4 and the current and previous A8s), the high-revving motor (the red line only comes in at 8250rpm) is actually derived from the Audi R8's V10.
Putting the power down on the road - and making its debut in an Audi RS car - is a 7-speed twin-clutch S tronic transmission, which Audi says has been 'specially reinforced for its latest role'.
The biggest trick for the new RS5 is a new crown-gear centre differential. A package of plates allows it to vary the distribution of torque between the front and rear axles, permitting up to 70 per cent of torque to head for the front wheels, or as much as 85 per cent towards the rear. The standard setting puts 60 per cent of twist to the rear.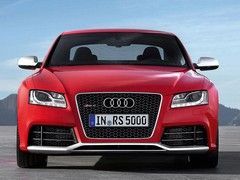 The RS5 also gets Audi's sport differential tech on the car's rear axle, which actively distributes torque between the rear wheels in order to boost stability and grip at the limit.
The visual tweaks are relatively restrained, with trademark twin oval tailpipes, a large rear diffuser and a retractable tail spoiler being the most obvious indicators of the RS5.
Inside, carbon fibre and aluminium trim mixes with Nappa leather upholstery, while an oil temperature gauge and a lap timer for circuit (or M25-ring?) use also make an appearance.
UK order books for the RS5 open in the spring, with first deliveries - for those who have shelled out around £58,500 - beginning in October.