It's been rumoured for a while now, but today Audi has officially taken the wraps off the new RS7 Sportback. The new model will not only top the A7 Sportback range, but it'll also take the place of the saloon version of the current
. That means it'll have quite a bit of work to do, defending Audi's honour not only from it natural competitors, the
, but also their more upright counterparts, the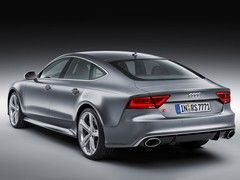 RS7 will fill the RS6 saloon's boots
To that end, it'll be powered by the RS6 Avant's twin-turbo V8, smaller in capacity than its rivals at 4.0 litres, but with a 560hp output that'll put it on a par with the standard versions of the both the Mercs and the BMWs. That'll give it the capacity to hit 60mph in 3.9sec, with a top speed electronically limited to 155mph, 174mph or 189mph, depending on whether you opt for the standard car, the Dynamic pack, or the Dynamic Plus pack respectively. It'll sound the part, while it's getting there, too, thanks to a switchable exhaust system with flaps that alter the sound under full-bore acceleration. Nice.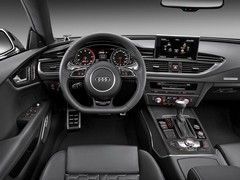 Interior is as you'd expect
The rest of the mechanicals will also be shared with the RS6, so of course it'll get Quattro permanent all-wheel-drive with a self-locking centre diff, the eight-speed Tiptronic transmission - the seven-speed DSG unit isn't quite man enough for all that torque, it seems - and a torque vectoring system. We'll also get the sports suspension package – that is to say, steel springs with three-way adjustable shock absorbers and dynamic ride control – as standard over here in the UK, as opposed to the adaptive air suspension  available elsewhere. Which can only be a good thing. Meanwhile, we'll also get active power steering, which becomes passive when the car is in 'dynamic' mode. We'd have been happier without any interference at all, but I guess we'll take what we can get.
While UK launch date and price details have yet to be announced, we expect it to arrive in summer, priced similarly to the RS6 Avant at just over £77,000.