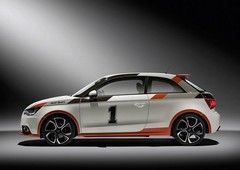 PH first learned that
Audi has been tinkering with a Quattro option for the A1 back in June
- and now we hear the programme to create a range-topping S1 has been given the go-ahead.
According to an Autocar article today, a 4x4 platform re-engineering job is considered cost-effective within the VW group as it will result in a trio of new models including the Audi S1, a new Volkswagen Polo R and something called a 'CrossPolo'. (Which may very well have just received its first and last mention here on PH.)
As a result, the 182bhp 1.4TFSI Audi won't be the A1 range flagship, and instead we'll get something altogether more interesting - hopefully with the grunt to match the looks of the stickered-up Urquattro tribute version we're currently forced to recycle pictures of...