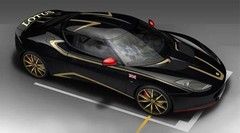 Lotus has produced a trio of Evora S GP editions, featuring the black, gold and red colours of the Formula 1 team. (And before anyone asks 'which F1 team', it's the bl**dy Lotus F1 team. No, the other one...)
Anyway, aside from the black paint job the cars feature natty gold graphics including a Lotus decal on the rear wing, and some red detailing on the wing mirrors and around the front and rear aero bits. Inside the Premium Pack is fitted, and trim is SuedeTex with custom red stitching. You also get a reversing camera and forged Diamond Cut design wheels, also painted gold.
The cost is £69,950, which is £7k or so more than a standard Evora S - and we know about it because Bell & Colvill have one in their showroom.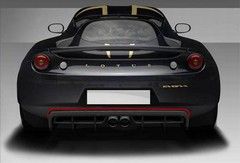 Meanwhile, remember the
Freddie Mercury edition
'charidee' Evora we told you about a while ago? Well the charitably-minded new owner is Chris Evans.
We don't know how much he paid, but we do know he's been to Hethel to finalise the spec of his new acquisition, because there's an item about it on the company website - including an email from the Ginger Wizard himself, which gives an interesting insight into the charmed lives of the rich and famous. Being him sounds almost as much fun as being a motoring writer...
"Great day down with the guys at Hethel/Lotus HQ. I am officially especially excited over what I took a sneak peak at concerning certain future production cars. Time machine required - get them in the showrooms asap so the world can look on in wonder. And as for Gavan the test driver, he should be available on prescription. Woohoo!! I'd also like to thank Gino for his hospitality and muchos gracias to Russ and his design team for helping me spec the Freddie Mercury Tribute Evora S in the spirit with which it deserves. The initial purpose of my visit. There has been talk about a future go in an F1 drive-a-like. Count me in!
...P.S. Noah says he's never had a more enjoyable time at a works HQ but then again he is only two and a half and it was his first one."