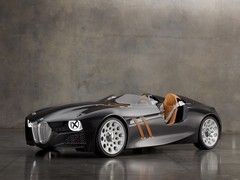 "The BMW 328 is considered the most successful and best-looking sports car of the 1930s," says BMW in the press release introducing its own 75th anniversary homage to the car.
75 years on, the less than imaginatively named 328 Hommage concept revealed over the weekend at the Concorso d'Eleganza Villa d'Este seems likely to leave less of a mark on the history books than its illustrious ancestor.
From this desk, it looks like a mish-mash of design cues from the 1930s 328 and the recent Vision ConnectedDrive roadster - leaving us challenged by the sight of leather bonnet straps across exposed carbonfibre weave bodypanels, amongst other things. (Can you see what they're doing there, etc?)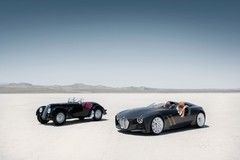 That said, we all know what happens when you ask motoring hacks to design a sports car (*cough* Sutters!), so perish the thought that we might have scribbled anything more appropriate during our own lunch break.
Anyway, you might like it, and if nothing else it's got great legs. (Can we say that?Ed.)